The KFC outlet near Stabroek Square and the KFC and Pizza Hut outlets on Vlissengen Road closed earlier than usual yesterday afternoon due to unknown circumstances although a sign at the Stabroek outlet said it would be reopened "shortly after maintenance."
Last evening Stabroek News received word that all three fast food restaurants closed earlier than usual and that patrons, unaware of the developments, turned up at the various locations only to be greeted by locked doors.  The closures came after an inspection was conducted. Restaurant officials could not be reached yesterday for comment.
Upon visiting the  KFC branch at Stabroek  last evening, several staff members were seen cleaning the restaurant's ceiling and sweeping behind the service counter. Other members of staff were seen cleaning areas closer to the kitchen.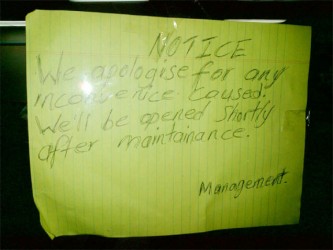 As these works were being carried out, an individual, smartly dressed in a tie, shirt and pants, was observed moving around inspecting the work being done. There were several other members of staff sitting together at two of the many tables in the restaurant, one of the young women even offered this reporter a broom to assist in the cleaning.
Soliciting a comment from the staff was fiutile, however there was a sign on both of the building's entrances, advising that  the outlet was closed for maintenance. Strangely enough though, individuals dwelling just outside of the outlet, looking on at the works, were unaware that it was closed.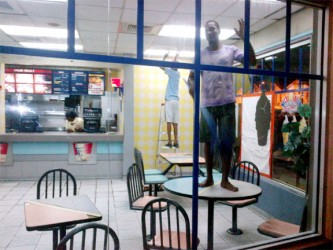 Meanwhile, both the KFC and Pizza Hut outlets on Vlissengen Road were closed when Stabroek News visited them last evening. None of the surrounding residents seemed to know why the outlets were closed, but one woman recalled noticing the employees leaving at an unusually early time yesterday.
Around the Web