It has been two years since pharmacist Harold Rachpaul was found bound and gagged in his living quarters behind his Robb Street pharmacy and police seem no closer to finding the killer.
Relatives of the man said that from all indications the police are not even pursuing a man who was wanted for questioning in relation to the murder.
"I give up, I am not going back to the police. It makes no sense. I give up on them. They ain't doing nothing,"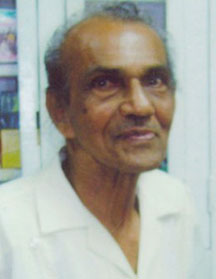 were the words of a frustrated Leonard Rachpaul.
He told Stabroek News last week that after two years "not a thing has happened" in his father's case. He said that all they are being told is that "they ain't finding the boy."
The person that Leonard who is popularly known as `Lenny' refers to is Ryan Kissoon, called 'Dhal Belly' of Tucville Squatting Area, in Georgetown. Kissoon's name was called after a woman reported seeing the man exiting Rachpaul's yard around 4am as she was on her way to the market. At the time, the woman related, the suspect was wearing a pair of short pants.
Leonard told Stabroek News that persons keep going to his father's pharmacy saying that they have seen him in different parts of the country. "One time he deh in Essequibo, next time he on the East Coast and next time he is in Albouystown so I don't know how the police can't find he and other people seeing him," he said.
He repeated that the police should have made more effort to find the man, and noted that the police made an error when they made contact with him. "They call the man on his phone and we never see back the man. You can't call. They should not have done that, they shoulda go," he said.
The still grieving man recalled that he visited the police about two months ago and he got the disappointing news that there was no new information. "I am not satisfied with that. I mean is not me alone. A lot of people ain't getting justice from this police because people loved ones getting killed and all the police does do is come the first time and investigate and then you ain't hearing back from them," he said.
He said too that when he visits the police station, the rank investigating the case is never there.
"The police don't show no interest and I don't know what the Minister of Home Affairs doing about this…" Leonard said, adding that from all appearances he has to forget about getting help from the police and put everything in the hands of God.
"I wouldn't give up. I know if the police can't do nothing God gotta give me justice. I gon get justice from God but I just want to see the person face to face who do this thing and I think that it is more than one of them," he said.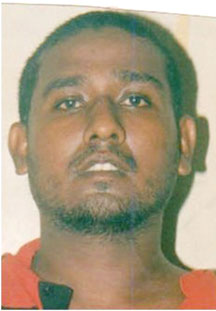 He told Stabroek News that he believes that the killer timed his father. He recalled that when he left his father in his living quarters behind the pharmacy the night before he was found, he told him that he had already looked after the dog. The dog who was pregnant was out of her pen when he left.
He opined that sometime during the course of the night, the dog smelt the intruders and started making noise. Leonard said that his father probably decided to lock up the dog and it was at this point he was attacked.
He says that he knows that he had to be patient with justice but he does not know how long he has to wait. "You does get justice but I would like to get it lil earlier.  Like in America people does follow up these things fast…" he said.
"I would appeal to the police to look closer into this matter because they break in here and killed him," he said.
Memories still fresh
He said that he and other relatives still remember the day as if it were yesterday. He said that they also think about Rachpaul a lot especially since he was a good father. He said that whenever he is in the doors the memories come back because people come to the shop and talk to him a lot.
According to Leonard his father was in love with his profession and even though he was an elderly man he chose to stay and serve his customers.
For the anniversary, he said relatives donated food items to orphans.
The 84 year old man was murdered on August 19, 2011. It was Leonard and his son Vincent who stumbled upon his lifeless body when they arrived at the Lot 75 Robb Street location to open shop. This was shortly before 8am.
His father's hands were also tied in front of him and he was gagged. A vault in the pharmacy was open and money stored there was missing. The pharmacy had also been tumbled up, this newspaper had been told.
Around the Web