Fire Chief Marlon Gentle yesterday confirmed that arson was the cause of the fire which consumed a `C' Field Sophia house on Sunday although the alleged arsonist insists that it was an accident.
Twenty-eight-year old Fiesta Fraser and her two children are today homeless following the fire which neighbours say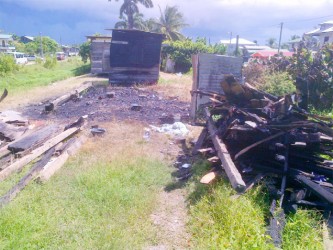 was started by the father of her children. According to an eyewitness, Fraser and the man got into a verbal exchange which eventually saw him setting the house the two of them once shared ablaze.
The exchange was allegedly sparked after a male friend of Fraser passed her home, waved and called out to her.
Gentle yesterday said that the fire was confirmed as arson, and added that this incident seemed particularly malicious.
Stabroek News understands however, that the man accused of setting the fire claims that it was accidental, and said that he was not even at home when it started.
This newspaper was told that the man has said that he never got home until the house was already burnt to the ground.
The man reportedly told neighbours that the fire occurred after a bottle of kerosene combusted.
Since all of their possessions were destroyed in the fire on Sunday, the family now literally has no possessions but the clothes which were on their backs.
It is unclear if the police are in pursuit of the alleged arsonist but as of last evening he had not been apprehended.
Around the Web