Relatives of murdered businesswoman Sirmattie Ramnaress have refuted claims by Sergeant Colin Bailey that he was in a relationship with the woman for 21 years and they say she was engaged to an overseas-based man.
"What 21 years? She has a fiancé …Colin Bailey never lived in this house. He used to visit. Look all her workers and neighbours, ask them. He used to come here. They were never living together… would you be with a woman and not know how old she was?" a close relative told Stabroek News yesterday.
Ramnaress was found dead around 10 am on Saturday with a stab wound and injuries to her head and her body in the garage of her home. While petrol was strewn all over her house, it was the bond at the back of the yard that was set alight and destroyed.  She was discovered after the fire service had been called about a blaze at the house.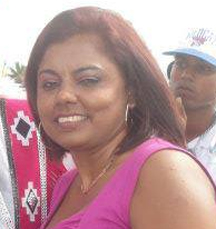 According to a police press release, the home was ransacked and drenched with a flammable liquid and a storage bond at the rear of the building was destroyed by fire. Police also said that her car was found abandoned on the public road at Liliendaal, East Coast Demerara.
Crime Chief Seelall Persaud yesterday told Stabroek News that at this point no one has been eliminated as a suspect, not even relatives. He said that there have been no new updates but that investigations are continuing.
Bailey, a policeman, told this newspaper that he was in a relationship with the woman for 21 years and they would share the Diamond house but that he owned a home at Vryheid's Lust on the East Coast.
Ramnaress' relative denied this, saying that Bailey did not live at the Diamond residence. She said evidence that the man had nothing personal at the house was seen two weeks ago when he visited the home through the pouring rain and had taken his own change of clothes in a backpack. "He came here and he was wet from the rain so my husband turned and he said that they both had the same size if he wanted a pants and shirt. But Bailey said no and he went into his bag and pull out clothes he had… that is how those things he has was left here… nothing else for him is here," the relative said.
An employee of Ramnaress said that Bailey would visit her at the house but that his visits were sparse. "He would come, sometimes one time a week, then sometimes you won't see he weeks," the employee said.
While "a lot of money" was missing from the mother of one's home her family has ruled out robbery as the motive for her slaying, while opining that the evidence at hand points to a staged crime scene. "There was no sign of forced entry. This house was very secure… check all the windows, the doors, none was compromised," the relative said.
Stabroek News was shown areas of the house and the bond. The latter is separated from the house by a pool, gazebo and pool bath house.
The only damage to the property was a broken window of the pool bathroom. "What good is breaking the window of the bathroom and it isn't even attached to the house?  You would throw gasoline all over the house inside and not light it? Then throw gas on her but don't light her either? The gasoline on her is to not have fingerprints …the person did not want to burn the house down just the bond," the relative asserted.
Yesterday the family cleaned up the premises but was awaiting the Guyana Power and Light to restore electricity. Up to late yesterday afternoon power had not been restored and the family had to stay at another location.
Ramnaress' house was equipped with surveillance cameras and an alarm. It also has an automatic gate which would have to be opened by someone inside of the house in order for visitors to enter.
While he said that he had heard that some think he had a role in her death, Bailey has scoffed at these suggestions.
"I have heard a lot of things but I would never, no, no, no they don't know me. I am not a person like that. I believe that if you can't work out (the relationship) or you realize that this is it, to part ways civilly …I was with her for 21 years and I love her… I am cooperating fully…I have a clear conscience," Bailey said.
An overseas-based sister of the woman informed that she will be cremated on Friday at the Ruimzigt foreshore according to Hindu rites. She said through her grief all she could do now for her sister was to "give her a good send off" as Ramnaress had always treated her and her children with tremendous love, even modifying her home to make them never miss New York when they visited.
An autopsy will today be performed on her body.
Around the Web