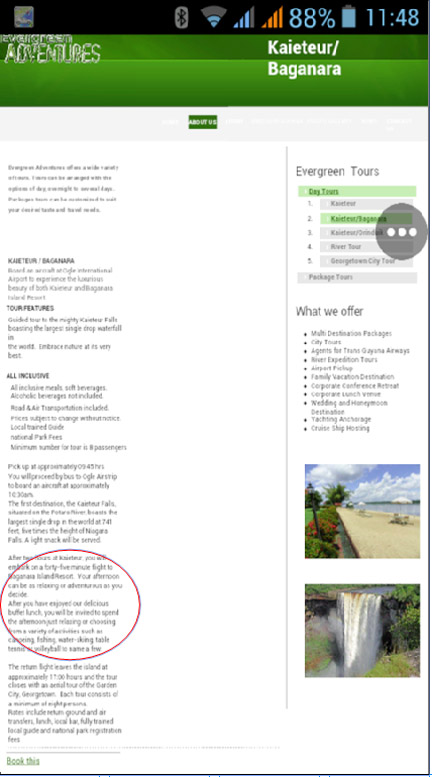 A Holland-based Guyanese man is accusing a local tour company of false online advertising and says that instead of refunding him for failing to deliver, it removed the false information from the site.
Ashton Siland said that he spent US$756  (equal to G$153,000) to bring himself and two children to Guyana to see Kaieteur Falls and to spend the day at the Baganara Resort, where they expected to be engaged in water-skiing but Evergreen Adventures did not deliver. A representative for the company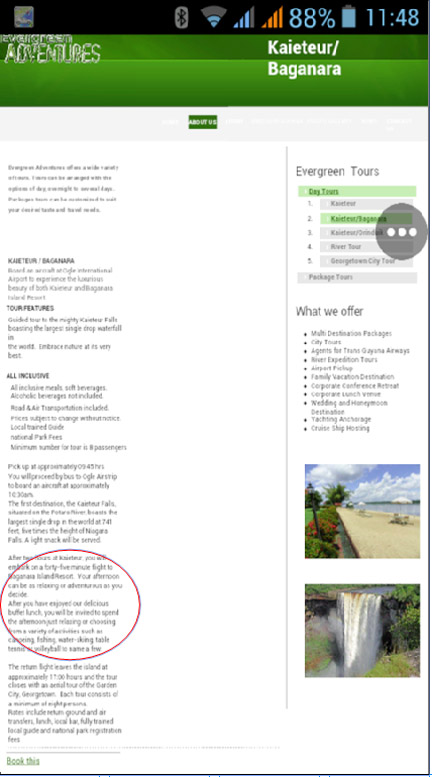 has since denied the man's claims, while noting that he was given an itinerary prior to payment being collected and he made no objections.
A still upset Siland recently contacted Stabroek News and provided a copy of his receipt, information which was allegedly posted on the tour company's website and e-mail correspondence between himself and officials of Evergreen Adventures.
"We ordered a trip (Kaieteur/Baganara) which states that we have an all including tour with waterskiing but when we get there (it) was nothing of that sort," Siland said, while noting that he subsequently asked for a refund. But "they refused to do so by telling me that waterskiing [has] not been mentioned on their site, so I confronted him with their site, [and] then they removed it from their site," he added.
Siland sent this newspaper a picture of text on a website which had the words "Evergreen Tours." After explaining a bit about the Kaieteur/Baganara tour, under the sub heading all inclusive, one paragraph states "…just relaxing or choosing from a variety of activities such as canoeing, fishing, water-skiing, table tennis, volley  ball to name a few." When Stabroek News checked the website, the words "water skiing" had been removed.
Siland said "this is not fair" and added that the Evergreen officials were arrogant when he raised the issue with them.
When contacted, the tour company's manager Alvin Wilson had a different explanation for what had transpired.
He said that in early July, the company was contacted through a tour operator based in Suriname about the tour options available in Guyana as she had persons who were visiting and wanted options for them. He said that they later sent her information on prices, particularly for Baganara, which was their first choice.
Wilson said that the agent later contacted the office, while stating that her budget was below the price received. "We suggested a combination of Baganara/Kaieteur to her. She looked at it and she said it was okay. She made queries about exactly what was being done which the itinerary clearly stated," he noted.
According to Wilson, the agent later called and said that her clients (Siland and his two children) were coming and would be making a visit to the office to pay for the trip. He said that despite not receiving any money from the agent, they held the three seats.
At Ogle Airport, he added, they visited the Evergeen Adventures office, where Siland was handed an itinerary. "He (Siland) read it," he said, while explaining that the company's policy is for the client to go through the itinerary and understand.
Wilson was adamant that there was no water skiing on the itinerary and as far as he knows that is not on the website. He said that after a tour to Kaieteur Falls, the group that included Siland and his children headed to Baganara for lunch.
According to Wilson, it was not until two to three days after the tour that Siland, through his agent, expressed dissatisfaction with it. Among the complaints, he said, were that they did not get to see the falls because it rained. Wilson stressed that this was not something they could have dealt with and he said that as promised the tourists were taken to the three vantage points.
Another issue, according to Wilson, was the interpretation of an aerial tour as Siland was apparently expecting that he would have been picked up in a car from his hotel and taken around the city.
"He was thinking that he did not see a garden. It was a misinterpretation of what was given to him," Wilson said. "He didn't partake (in the activities at Baganara) by choice. No one restricted him. He didn't indicate to the manager that he was unhappy, based on what I know," he added
It was explained that Siland was asking for a US$100 refund. "He saying the reason is because he did not have an aerial city tour. The water skiing part—we asked him where on the itinerary that said so," he said.
Wilson said that the man sent a photograph to them of the alleged ad text but there is no indication that it came from the company's website. He added that this is the first issue they have encountered with a client and maintained that his company would not be giving any refund since it was not a case of false advertising.
Around the Web