Repsol is set to begin oil exploration again with a fresh round of 3D seismic surveys in the offshore basin close to Suriname with a view to determining the hydrocarbon potential that may lead to a US$200 million drilling campaign after 2015.
The Spanish oil giant has hired the services of seismic surveying company Polarcus to carry out the surveys in the Kanuku Block offshore Guyana which will last for about 90 days. The survey will commence tomorrow and is due for completion on December 9, 2013. It will be done at a cost of US$35 million.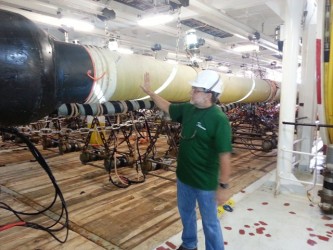 Members of the media, Minister of Natural Resources and the Environment Robert Persaud, officials from the Guyana Geology and Mines Commission and officials from Repsol were given a tour of the seismic vessel yesterday.
Leading the tour, Mike Phelps, Polarcus Party Manager spoke of the clean technology of the newly constructed survey vessel, Polarcus Asima, which arrived in Port Georgetown on Thursday.
"We put out a much cleaner sort of footprint, we don't put out the emissions that older vessels do. We don't burn as much fuel and make as much mess of the environment so that is the main difference [with Polarcus]," he said. "Older vessels coming here 10 or 15 years ago would have pulled one or maybe two streamers, we are actually doing these surveys with 12 streamers and some boats are actually going up to 16, 18 streamers," he said.
Allan Kean, Repsol's Atlantic Basin Exploration Manager, said the new technology that Polarcus is employing gives continuous seismic data in such a dense fashion that one is able to display it in a cube and look at it in three dimensions. He said the technology is phenomenal compared to the older technology with higher resolution and more definition of the seismic data.
Kean said the more streamlined data could be used to identify hydrocarbon saturation and differences in the rock composition that must be encountered and will help in deciding where exactly to drill for oil.
Because of the high quality of the data there could be a better mapping of all of the near surface events and that will be helpful in avoiding the problem of pressure building up in the pipes which led to an abandonment of the last well sunk by Repsol.
Around the Web