The large number of youths who make up the country's prison population is a cause for "serious concern" and this issue should be given top priority, according to Opposition Leader David Granger.
Granger was responding to a statement made by the Director of Prisons last year that 75% of inmates were young people.
"I am concerned about that. I would like to appeal that we need to tackle the youth problem in order to ensure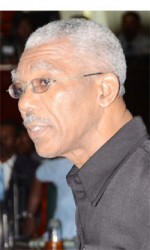 that more youths are given a full education and after that they are given full employment, and I think that would help to reduce the problem of youth crime," he said in response to a question on the issue.
Granger told Stabroek News that the large amount of money that is being spent to maintain each prisoner could be better spent on creating avenues which would benefit young people and steer them away from a life of crime.
"On one hand it costs over $350,000 a year to maintain a single inmate in the prison. That is money that could be better spent as salaries for the youths," he said while noting that there should be some analysis to ascertain "the reasons for the incarceration of so many young people."
Granger observed that it might be a case where many of them are on remand, which means they haven't been convicted, while some might be incarcerated for misdemeanours or offences such as the use of narcotics.
He said that his party recommends that some other form of non-custodial punishment such as community service be considered for persons incarcerated for offences like narcotics possession. "For those persons who are sentenced to imprisonment at a young age, there is a strong tendency for them to commit other offences later on and to become hardened criminals, and sending them into the company of convicts does not relieve them of the burden that they may have to carry later on in their lives," he said.
According to Granger some start off at the New Opportunity Corps (NOC), end up at the Georgetown Prisons and from there they may go to the Mazaruni Prison. "APNU believes that attention should be placed on rehabilitation. An environment could be created in which more young people are encouraged to study at secondary level to do their CSEC examinations," he said, adding that others could get training in technical and vocational work.
He said by doing this they will eventually be provided with an occupation which would take them away from a life of crime. "So there is much more that can be done at governmental level to reduce the expensive prison population, to take young people away from crime and to produce a generation that is going to be committed to their own self-empowerment and also to national development," Granger said.
He noted also that work can be done at the community level. He explained that his party is looking forward to the reintroduction of democratically elected Neighbour-hood Democratic Councils (NDCs) and "we feel that they could be a hub for providing the community framework" in which young people can be steered in the right direction.
Asked if he was shocked at the figure as stated by the Director of Prisons, Granger responded, "It is not so much a matter of shock because I was aware there was a very large number of dropouts." He made a link between this and youths turning to a life of crime.
Granger's position is similar to one which was made former education minister Shaik Baksh who said back in 2010 that research had shown that many premature male school leavers turn to a life of crime. He said that in any society there is always a linkage between school dropouts and crime.
While speaking with Stabroek News on that occasion, he had said that the Ministry of Education had embarked on a vigorous three-year campaign to reduce the school dropout rate.
National Development Policy
For AFC Chairman Nigel Hughes, a better way to reduce the large number of youths ending up in prison is to create a National Development Policy to give youth choices to lead a successful life.
While noting his party's concern over this situation within the prison system, Hughes said that there are a lot of people incarcerated for narcotics related offences who ought not to be there.
"The large number of young people who are incarcerated points to a very serious social deficiency in our society. Something is going on in which particularly our young men are without hope to participate in a formal society."  Hughes told Stabroek News that as a result of this situation young people then embark on illegality. "We don't have a system, our court system is not structured to say, look we must do our utmost to avoid young people ending up in prison," he said, adding that he believes that consideration should be given to the first-time offenders who go before the court. "That we do as much as is legally possible to avoid them going into the prison, because… once you get in, even if it is for a night, it is a university," he said.
Hughes expressed the view that once a person is exposed to that "level of abusive behaviour in the prison, when you come back out into society even if you were just remanded… you are a different person." He emphasised that we should avoid sending people, especially young people and first-time offenders, into the prison unless it is an extreme case such as if they were charged with murder or they are likely to interfere with witnesses.
He said that for the approach to be effective, however, it must be coupled with a National Development Policy which actually "creates real jobs for young people so that they feel they have hope." He said that particular attention has to be given to young males.
According to Hughes, his party will be pursuing the development of such a policy to "help deal with this."
Around the Web