Three years after Cummings Lodge slayings, in which five persons including a three-year-old were fatally shot, police say the trail of the perpetrators has gone cold while Kamla Singh still clings to the hope that they will be brought to justice.
Just before 8 pm on September 4, 2010, unknown gunmen riddled a car as it drove out of Second Field, South East Cummings Lodge. Inside were Steve Jupiter, called 'Steve man,' Christopher Gordon, called 'Bigga,' Sherwin Jerome, called 'Dice Head,' Jupiter's girlfriend, Fiona Singh, and their three-year-old son, Neil Jupiter.
The three men died at the scene, while the mother and child succumbed
at the Georgetown Hospital while receiving medical attention.
"We haven't had any information for the longest while," Crime Chief Seelall Persaud said when contacted recently. He, however, maintained that the motive for the killings was a "drug feud" and he also linked a man charged with the subsequent execution of Mark Caesar, called 'Lil Mark,' to the killings.
Singh, who lost her daughter and grandson in the attack, believes that there is information around but persons are afraid to come forward.
It was late Police Commissioner Henry Greene who had linked the killings to drugs, telling reporters at a press conference that seven kilogrammes of cocaine that went missing may have fuelled the deadly attack.
Greene had explained that it was believed that one of the slain men collected nine kilogrammes of cocaine which came from Venezuela and had been due to hand it over to a "certain group" but  only two kilogrammes were delivered.
The man making the delivery, he said, claimed that the rest had been seized by the police.
Since then, police have insisted that the missing drugs were a key factor in the killings even as relatives of the victims strongly denied this.
Still grieving, Singh, who relocated to Linden, told Stabroek News that her wounds are still raw and the pain of her loss is a permanent fixture in her life.
Despite the pleas she made last year for anyone with information to come forward, no one has. "Three years after I haven't heard nothing from no one. Not even the police. I never went back to them (the police) either," she said, while adding that she also wrote to the president for assistance but until now she is yet to get a response.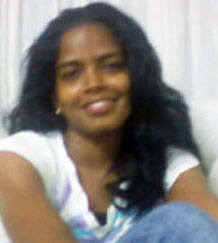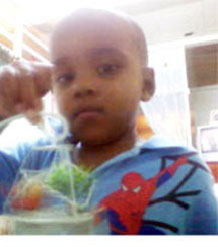 Though the odds seem to be against her, Singh still believes that someday she will get answers. "I am not giving up," she emphasised.
She said that she wants justice, if not for her daughter then at least for her grandson, who was just a small child. "The day is sad. I think about them every day, every single day of my life.
They were healthy and then boom that's it. I don't know what kina country we living in," she added.
Singh continues to question why her daughter and son were killed and she noted that she was horrified when Greene visited her and simply said that the two were in the wrong place at the wrong time. "I have asked myself why.
"I may have some ideas but I think it is best not to say anything," she said.
Singh said that she never runs out of tears. Crying has now become part of her daily life and it only gets worse for her as the anniversary approaches.
She added that she often visits the tombs of her daughter and grandson, where she sits and reflects on the good times they shared.
Turning her attention to the investigation, she said the police ought to be more serious about addressing the crime rate and paying attention to protecting innocent members of the public. "I want the Crime Chief to investigate and get to the bottom of it," she said, while noting that it is not only she who needs justice but also persons whose children have been killed or executed by guns.
Asked about visiting the police to try and get answers or check on progress of the investigations, she said she believed it is a waste of time. "I think is a waste of time going to the police because of how I feel, because they could have come to me. Henry Greene told me that she (Fiona) was in the wrong place at the wrong time. But police still have a duty to investigate…," she added.
She noted that police never called or visited her home to put her mind at ease that they are working or to be honest and tell her that they have reached a dead end.
Singh said that as a mother and grandmother, she is pleading with the police to give her some justice.
Around the Web