The Government of Guyana is said to be investigating the circumstances surrounding the visit of a number of Venezuelans and military personnel to Eteringbang on the day the Head of State of that country visited Guyana for talks with President Donald Ramotar.
According to the report in the Venezuelan publication El Universal, "officers of the Venezuelan army" accompanied 45 Venezuelan citizens who carried out "an act of sovereignty in the Essequibo disputed area" on Saturday August 31, 2013. It was the same day that Venezuelan President Nicolas Maduro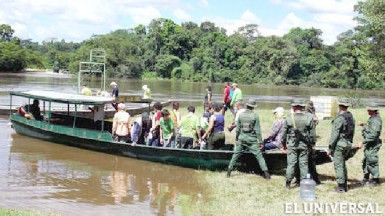 paid a state visit to Guyana to hold talks with President Ramotar. He left the same evening.
Contacted yesterday, Minister of Foreign Affairs Carolyn Rodrigues-Birkett said preliminary reports indicated that the Venezuelans were students, who were granted permission to do a research on the border.
The report by the online Venezuelan publication said that 45 Venezuelans "went on a mission crossing the Cuyuni River and into the Guyana-Venezuela disputed area accompanied by officers of the Venezuelan army."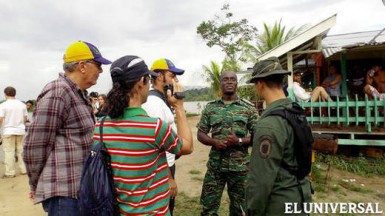 The publication quoted Venezuelan Ricardo de Toma as saying: "We came here to carry out a civil exercise of sovereignty, but we do not understand what President Maduro was doing there [in Guyana]."
El Universal said de Toma and his colleagues were members of an organisation called 'My Map of Venezuela also Includes our Essequibo'.
According to the publication, de Toma said that in spite of the mining projects Guyana has been developing in the "Essequibo-disputed area with Venezuela," plus the granting of oil concessions in the Venezuelan Atlantic front, President Maduro "paid a visit (to Guyana) only to spread an ideological model."
Contacted yesterday, the Public Relations unit of the Guyana Defence Force said that an investigation was being conducted into the incident and a report will be released upon the completion of that investigation. This was according to one Colonel Anderson.
Rodrigues-Birkett also said she was awaiting a detailed report on the occurrence.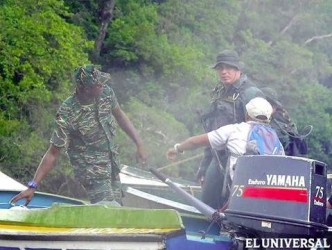 "The preliminary information available to me indicates that a group of Venezuelans came to Guyana via Eterinbang. They indicated that they were students and sought permission from the relevant Guyanese authorities to enter Guyana. That permission was given. They further indicated that they were doing a research in relation to the border," she said.
"I am advised that they had security officers with them. I do not have any report of any 'military exercise' and will not speculate. I await a full report on the matter," she said.
Around the Web