Wheelies, burnouts and stop drops, abounded yesterday morning and afternoon as approximately 78 bikers clad in red and white from around Guyana and as far as Suriname turned out to the funeral of slain biker Kirk Davis to pay their last respects.
Davis was shot dead in front of his Eccles residence on the evening of September 3 and six days later, after no suspects had been taken into custody and amidst mounting pressure from relatives the media and other sections of society, the police issued a wanted bulletin for Rondy Jagdeo, a friend of Davis and his suspected killer.
Low humming sounds grew louder and louder as the bikers slowly proceeded west along Norton Street toward the Lyken's Funeral Parlour where Davis' body was being held for viewing.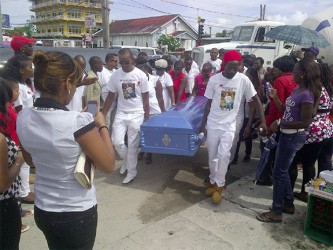 When they came to a halt outside the parlour, traffic was blocked for a few minutes and individual bikers revved their engines and did burnouts as is customary on such occasions. Despite the obvious gloom on the faces of relatives, friends and even curious onlookers who turned out to the funeral, the bikers' activities seemed to raise their spirits, if only for a few minutes.
Spirits were raised once more as the bikers, after traversing several spots Davis was known to frequent, turned up at the Galilee Gospel Hall in Eccles where the funeral service took place.
As they came around the median from the eastern to the western carriageway, traffic was delayed once more as they displayed skills which Davis himself had demonstrated while alive.
Smiles adorned the faces of some while others cheered, all of them fascinated for the temporary session of entertainment before what was to come later.
It was obvious that Davis was loved by most of not all his relatives, and the women in particular insisted on showing their love one final time. At funerals it is customary for male relatives and friends to be pall bearers yet several women pushed for the opportunity and succeeded in getting to at least two of the handles.
In fact, two women were seen clutching one handle, and before the coffin had been taken out of the hearse, the women were heard calling for all-female pall bearers.
Jagdeo has not yet been taken into custody and the police are yet to make further progress in their investigations.
Around the Web