President of the Upper Corentyne Chamber of Commerce Krishnand Jaichand says that business persons are panicking in the face of the upsurge in crime, despite the comments of Police Commissioner (ag) Leroy Brumell and he urges police to consult with them to find ways to deal with the situation.
"We need to press the panic button. It is time to panic," he told Stabroek News yesterday.
He was making reference to comments made by Brumell last week that there is no need for citizens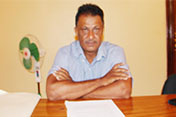 to press the panic button over the recent increase in criminal activity that has gripped the country. Stressing that police are working hard to deal with the crime situation, he said that they ought to be given a chance to get the job done.
"I am asking that something drastic be done about the increase in crime here," he said. Last week, elderly Corentyne rice miller Lallapersaud Juggerdeo was shot to death during a robbery at his Number 0 Village home. On Sunday, 79-year-old Abdul Majid was found dead following a robbery at his home on Sunday.
Jaichand told Stabroek News that prior to now there were crimes in the Corentyne area but with the last two incidents which resulted in deaths, the business community is worried. He noted that both men were businessmen.
He said that during the day he visited various locations and the "sense of panic is in every store".
He said that in every area, members of the business community are asking what the Chamber is doing about the present situation. "The Chamber represents most of these businesses. If members are in fear they may not want to continue being a part," he stressed while adding that they can assist the police with some resources if that is what is needed.
He called for the presence of the Berbice Anti-smuggling Squad with assistance from the army.
Jaichand said that in the case of the rice farmer he disagrees with the police questioning why the man did not confront the bandits with his weapon. He said that it could have been a case that the elderly man may have not realized what he was walking into.
"Prior to the last two months there was no panicking. From the rice miller [to now] there is the sense of fear in business people," he said adding that the general feeling is that there is need for patrols even during the daylight period.
Around the Web