A Trinidadian group of companies is looking to make investments worth over US$4 billion in Guyana, beginning with a cable linking the two nations to bring hundreds of megawatts of surplus power here and targeting companies that currently self-generate.
The 400-megawatt cable link is but one of a number of energy projects, any of which could see Guyana essentially becoming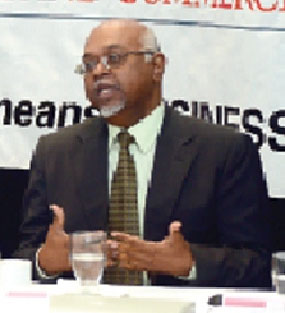 a net exporter of energy in another three to five years. The investments comprise several mega projects that include a hydropower plant, an aluminium smelter and a deep water port.
Speaking to Stabroek News yesterday, Donald Baldeosingh, President of the ENMAN Group, said that its hydroelectricity project will see power being produced at a cost of about 5 US cents per kilowatt, a far cry from the Amaila Hydropower project's proposal of 12 US cents per kilowatt hour.
According to Baldeosingh, the core projects are: Trinidad to Guyana Power Interconnection (US$700 million); an aluminium smelter in Guyana (US$560 million); a deep water port in Guyana (US$500 million); an industrial park in Guyana (US$250 million); a hydroelectric power plant in Guyana (US$2 billion); and a training institute in Guyana (US$70 million).
"I met with President Bharrat Jagdeo at an [IFI] meeting in Paris and I told him that Petrotrin could get more involved in Guyana," he said. He believes that once the price of energy came down, then industries will take off in Guyana.
ENMAN has already entered into a Memorandum of Understanding with the government to develop a hydropower plant at the Turtruba Rapids, upstream of Bartica on the Mazaruni River, for which there is a projected 800MW capacity.
"We signed an MOU with the government, giving us exclusive rights to develop that site," Baldeosingh explained. He said that prefeasibility studies prove that the project is feasible and will deliver power at a cost of between 2 and 5 US cents per kilowatt hour.
However, he said that to build such a large plant means one must have buyers identified to purchase the power. He said that he went to Puerto Rico and Brazil with a view to seeking out markets for the power to come from the hydro station. "We have an agreement with Brazil that they will not work with anyone but us," said Baldeosingh.
He added that he is seeking an agreement with the Government of Guyana to facilitate the power cable from Trinidad. He said that with such an agreement in place, the cable could be in place in three years, delivering Trinidad's surplus power to Guyana. "Once we bring that power and establish connection, we will go ahead with Turtruba. We will then bring back power to Trinidad and other places so that Guyana becomes a net exporter of power. He said that a full feasibility study on the power link between the two countries is to begin soon and is expected to last about five months.
When the study complete, the project developers will then use it to leverage financing from the Inter-American Development Bank (IDB), the International Finance Corporation (IFC) and CAF – the development bank of Latin America.
According to Baldeosingh, ENMAN is also engaging the authorities in Trinidad with regard to the projects.
'Viable'
According to its Guyana Project Profile Summary, ENMAN studied the options for reduced usage of oil and gas for electricity production in the Caribbean, and concluded that the best option for alternative energy supply is hydroelectric power from Guyana's vast rivers. "By bringing the projects together, the developers have ensured that they are all viable," said the summary.
"At the invitation of the then President (Bharrat Jagdeo), ENMAN undertook to review the possibility of establishing a hydropower plant to service and attract new high power consuming industries such as an aluminium smelter within Guyana, as well as exporting energy to markets in the region," the project summary said.
Addressing the proposed hydropower plant at the Turtruba Rapids, it said the company partnered with Hardy Stevenson and Associates along with MOBEC Engineering of Montreal and conducted a pre-feasibility study, which concluded that because of the good foundation conditions, large volume of flow, excellent reservoir characteristics, good transportation facilities, and proximity to load centres, the site provides a sound source of power.
"The developers took into consideration environmental impacts and the capital costs and concluded that an optimised capacity of 800MW is possible. The resulting power price delivered to the industrial park will be under US$0.20 per kWh, the lowest unsubsidised price of power in the region. This is also roughly 50% of the cost of power borne by commercial users in Guyana," the summary said.
It noted that the power that will become available will far exceed the current and foreseeable demand in Guyana, "hence the opportunity to create new demand through establishment of a port and industrial park and as well as to export power to Trinidad & Tobago and to Northern Brazil," the summary said.
ENMAN said Guyana has the land space to accommodate the environmental footprint required for an aluminium smelter and that having a smelter and low cost power in Guyana will allow the entire region to establish a Regional Bauxite Strategy.
ENMAN said that Trinidad and Tobago has around 500 megawatts of excess power generation capacity and is faced with a 'take or pay' situation. "This power can be made available to the new industrial park in Guyana via a submarine power cable at a price of US$0.10 to 0.13, a highly competitive power price. It is envisaged that the availability of low cost power will result in many new industries in Guyana," the summary said.
According to the summary, the ENMAN Group of Trinidad & Tobago has designed and developed a synergistic amalgamation of projects, most of which are being or have been contemplated at one time or another.
"The overall development also addresses several regional challenges such as the need for new, renewable, low cost sources of energy in Caribbean, the oversupply of power in Trinidad & Tobago, regional action on climate change and reduction in Carbon Dioxide emissions, the need for a regional bauxite strategy considering the large reserves in several territories and the need for a deep water port in Guyana, among others.
Around the Web