Minister of Finance Dr Ashni Singh lauded the importance of investing in education at a bursary awards ceremony sponsored by Benjamin's Bakery of Buxton in honour of six students who were successful at the recent National Grade Six Assessment.
Adrian Benjamin, proprietor of Benjamin's Bakery, presented six bursaries to students formerly from primary schools between Lusignan and Strathspey, East Coast Demerara. The students have earned places at Queen's College, the Bishops' High School, St Rose's High, St Joseph High and Annandale Secondary School, a report from the Government Information Agency (GINA) said.
In his address, Dr Singh said government believes that there is no greater investment than in people, especially youths. He said the education sector receives the largest allocation from the National Budget and this money is spent on ensuring that there are environments that are conducive to learning. Guyana has achieved universal primary education and, he said, it is making advances in achieving the same status in secondary education.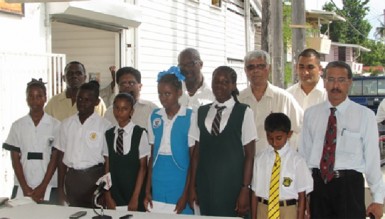 "This allocation is used to build schools where schools don't exist, to renovate, to rehabilitate, expand the schools where additional spaces are improved and facilities are required, to employ teachers in adequate numbers, to train them, to equip their schools, to ensure that these schools are able to operate and function, to provide for higher education like the University of Guyana and the Technical Institute," Singh said.  The budgetary allocation is also used to provide education outside the traditional forms, primarily in areas such as literacy and numeracy, and equipping schools with equipment to promote Information Communication Technology, most recently via the One Laptop Per Family (OLPF) programme.
The minister also said a special allocation was given to the University of Guyana (UG) to introduce an online programme for persons who are not able to attend the institution because of work or domestic commitments.  He encouraged the students to continue to work hard as success does not come without hard work.
He also commended Benjamin's Bakery for demonstrating a community consciousness, investing in the young people and recognising the importance of such an investment.
According to GINA, the bursaries were presented by Finance Secretary Neermal Rekha, Chief Planning Officer at the ministry Clyde Roopchand, Region Four REO Deolall Rooplall, selected teachers from the recipients' schools and the owner of the bakery.
Around the Web