Police yesterday released the wife of murder suspect Rondy Jagdeo, Crime Chief Seelall Persaud confirmed.
The woman had been arrested in connection with the murder investigation shortly after she was discharged from a city hospital where she had been under close arrest.
Persaud, when contacted, told this newspaper that the woman was released during the afternoon period and that her relatives had filed Habeas Corpus proceedings.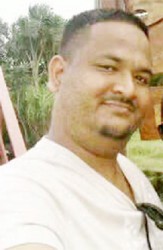 Jagdeo is accused of shooting Kirk Davis 16 times in front of his Eccles, East Bank Demerara home on September 3.
After committing the crime he fled the scene and is suspected to be hiding out in Suriname
The woman had turned up at a private hospital with a gunshot wound. She was subsequently placed under police guard. It is suspected that she was present when Davis was killed and had sustained the gunshot wound at the same time.
Around the Web