The result of the post-mortem examination conducted yesterday on the remains of Corentyne businessman, 79-year-old Abdul Majid proved that he died from strangulation.
Majid was found motionless in his hardware store with blood oozing from his mouth, around 10:30 am on Sunday. He was rushed to the Skeldon Hospital where he was pronounced dead on arrival.
His wife, Kamrun Nesha Majid, 74, had said that there were no marks of violence on her husband but a length of rope was found next to him.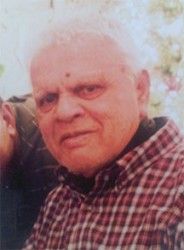 A bag, left behind by the bandits was recovered at the scene and was handed over to the police. Reports are that two persons had been taken into custody and are likely to face charges..
In tears, the widow said life would never be the same again without her husband who took pride in taking care of his flower garden as well as a fruit farm on a large plot of land at the back of their yard.
She also said that her husband, who had worked hard over the years, was kind and generous to everyone and was well-respected.
She lamented that he did not deserve to die in such a gruesome manner and felt that his attackers could not be from the area.
The bandits entered the lower flat of her house, terrorized Kamrun and robbed her of US$2,000, $130,000 and a quantity of jewellery worth about $8,000.
She also tried to be brave as the bandits were manhandling her and told them she was suffering from pain in her shoulder and that they should not rough her like that.
She told them too that if they tied her hands behind her back she would not be able to give them what they wanted. But the bandits did not care. They had also threatened to kill her.
She said she had co-operated with the bandits all along thinking that her husband was alright. He had just left to tend to 'customers' in their shop located in the yard.
Around the Web