Rear Admiral (rtd) Gary Best has alerted Brigadier Mark Phillips about the challenges he is likely to encounter in his new command as Chief-of-Staff of the Guyana Defence Force (GDF), and encouraged him to remain focused on leading and effecting positive change in the force.
A release from the Government Information Agency (GINA) said that the advice came as Best officially handed over the responsibility of Chief-of-Staff to Brigadier Phillips, retiring after 33 years in the GDF, six of which he was the Chief-of-Staff.
Best was quoted as telling the new Chief-of –Staff, "Your greatest test is not where you stand in the good moments, but where you stand in times of challenge and controversy. You will have to be strong and hold your ground. You will have many testing moments however, be inspired by you desire to lead and develop further the Guyana Defence Force."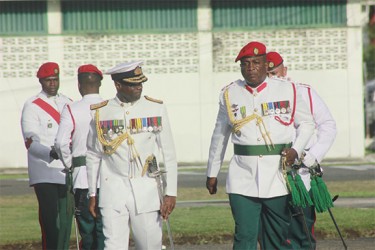 Best's tenure as army head was rife with controversy the most recent being the reported mistreatment of an AWOL soldier, accusations that he had maliciously withheld officers' bonuses and allegations of abuse of power.
The first GDF officer to wear the rank of Rear Admiral, Best said he was satisfied and proud of his over three decades of service to the force.
"I believe that I worked to instill a sense of morality, purpose and professionalism in their [soldiers'] lives. I believe that I worked to provide a foundation for education, growth and continued transformation of the GDF," he was quoted as saying.
Phillips, who took the oath of office before Commander-in-Chief of the Armed Forces President Donald Ramotar on Monday, promised to lead the force with professionalism as his guide.
The baton was formally passed from Best to Phillips on Tuesday at a Change of Command Parade at Base Camp Ayanganna. The programme included prayers, final inspection of the parade, a march past, handover of the Force Colours, Change of Emblem and a farewell gun salute.
A farewell flyover was done in honour of Best who conducted his final parade inspection before delivering his final address which also included advice on security priorities.
GINA said that Phillips has already been in dialogue with the Defence Board and told the media about his intentions to operationalise the strategic vision of his predecessor to partner with the Surinamese Government.
Phillips is the holder of a University of Guyana Bachelor's Degree in Public Management and a Master's Degree in Public Sector Management from La Pontificia Universidad Catolica Madre y Maestra in the Dominican Republic.
During the period 2008 to 2009 he was head of the Guyana delegation to the Inter-American Defence Board and had successfully completed the 50th Advanced Course in Hemispheric Defence and Security at the Inter-American Defence College at Fort McNair, Washington, D.C during the academic year 2010-2011, the release added.
Around the Web