General Manager of the Demerara Harbour Bridge Rawlston Adams said that the bridge continues to be dependent on an annual subvention from government since its revenues are nowhere near what are needed for the entity to be able to carry out its operations and maintenance works.
Speaking at a press conference yesterday to update the media on efforts to carry out on-going repair works in the wake of last year's near collapse, Adams said that while he would like to see the income for the entity increase, it is not within his power to raise tariffs.
"We are spending close to $1 billion a year and our revenues are now touching $400 million," he said, while adding that these figures vary year to year. He noted that even though the volume of traffic is increasing with each passing year, this increase in traffic volume does not translate to any significant increases in revenue. He said that over the last four years traffic has grown 8 percent.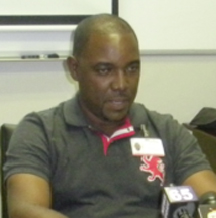 In the 2013 budget, the total revenue of the DHB is given as $735.36 million with revenue from operations being $408.63 million. The Treasury also financed a $300 million capital project for the fabrication of extra-large pontoons, the fabrication of connecting posts and buoys, the rehabilitation of cluster piles, the supply of anchor chains and the supply of navigational aids. The project was meant to ensure improved safety and services of the bridge.
While persons who use the Berbice Bridge believe that the tolls, designed to ensure that the investors into the bridge receive a good return on their investment, are too high, it is the view of many that the tolls paid to cross the DHB are miniscule and need to be revised to ensure that the entity could raise revenue for its operation and maintenance.
Efforts to reach Minister of Works Benn for a comment on the raising of the tolls for the DHB proved futile.
Around the Web