Top Cop, Leroy Brummel is urging communities across Guyana to fight back against criminal elements that are infiltrating formerly peaceful neighbourhoods. The Acting Police Commissioner told members of the Meten-Meer-Zorg community that "we have to take back our communities" during a Police/ Community Outreach held in the area following a surge of serious crimes.
Brummel said that communities had to "war" with criminals and that citizens as well as the Guyana Police Force had to be vigilant by working together. The Commissioner stated that in the light of the recent spate of murders and robberies in the West Demerara region the judicial system had to do its part to ensure that criminal elements were shut down. He went further by calling for convicted criminals to be hanged: "every week you hang two, but as I am saying, we don't have the power," acknowledging that only the President could make that call.
Brummel turned his attention to licensed firearm owners stating that they had a responsibility to the greater community.  "When you have a firearm you have a position," he said, and if bandits were on the loose and roving through communities terrifying people, licensed firearms owners had the responsibility to act.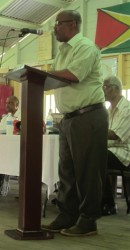 "I expect that firearm holders don't be selfish in their communities… I expect them to come forward," Brummel said. He reiterated that if there were bandits in the area who happened to come into the home of a licensed firearm owner that was reason to act accordingly and dispense rounds. The Commissioner said that he himself would not allow bandits in his own home without discharging a weapon, "I will not at any time stand up or be at home and my family in there and I gun' just give up that easy."
Information
Brummel stated that "I think people getting fed up of this," an allusion to criminals coming into  "communities like they own it committing problems and leave." He noted that when communities were scared to come forward and tell the police what they knew, crime was allowed to fester. He assured the roomful of residents at the Meten-Meer-Zorg Primary School that the police would keep information confidential.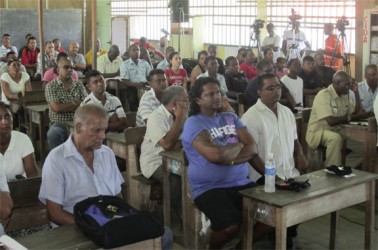 Deputy Commissioner for Law Enforcement Seelall Persaud told the audience, "The police cannot respond to crime alone; we need information and who has this information? The people who live among criminals and the people that live in areas where crimes are perpetrated."
Persaud said that the GPF did not have all of the answers and the police could not handle the crime situation alone. He acknowledged that without community cooperation the force was "handicapped" which was why the various community policing groups were so vital.
Persaud spoke about the lack of effective social institutions which he said were causing a breakdown in education among the youth. He noted that "we have a growing youth population that is disproportionality involved as perpetrators of crime and as victims of crime." Persaud said that many youths were dissatisfied with their level of education and as a result did not believe they had choices to achieve the things they wanted, and instead "they move to unconventional methods to behaviour that is antisocial, that is criminal."
He said that especially in single parent homes quality time is often not usually spent with youths, and that in communities like Meten-Meer-Zorg which he called a previously quiet community, proactive measures had to be taken. He said that the GPF had to increase the amount of work done through the various youth-centred groups throughout the country. The Crime Chief noted that first and foremost the relationship between the police and various communities needed to be improved.
Around the Web