Four persons are in custody assisting detectives with brutal murder of Yadram Jaggai, called Muffy, 36, of Lot 254 Number 48 Village, Corentyne.
A post-mortem examination performed on the body of Jaggai yesterday stated that he died from shock and haemorrhage due to laceration to the head.
According to Pulmattie Jaggai, her brother sustained a fractured skull. The woman also stated that no stab wounds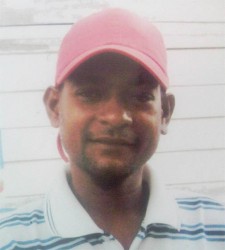 were found even though an ice pick was recovered from the scene.
Police sources said that the dead man sustained injuries to his head, bruises on his right and left shoulders, right arm, wrist, elbow and the left side of his abdomen.
It was reported that the battered body of the minibus conductor was found at his home on Saturday around 4.30 pm. He was found by Mahendranauth Singh, 54, a rice farmer and owner of the house where Jaggai was discovered.
Singh went in search for Jaggai after he was not seen in the area for two days. "Meh en see the man [Jaggai] so meh seh le meh see what he doing… because he like drink he lil rum and thing…" he said. When he arrived at the home which is a stone's throw from the public road, the gate was open. "When meh go in now meh see a shed deh down and a post deh a corna. Me see wan cloth, wan shirt, wan slippers and wan chain [on the concrete]," he said. He added when he found Jaggai, he was motionless.
Jaggai leaves to mourn his reputed wife, three children two siblings and father.
Around the Web