Roxan Rowe and Akule Aseyika were the grand prize winners among a group of 24 persons who won prizes in the MoneyGram 'Back to School' Promotion.
At a presentation ceremony held on Thursday at the Neal and Massy staff facility at Ruimveldt,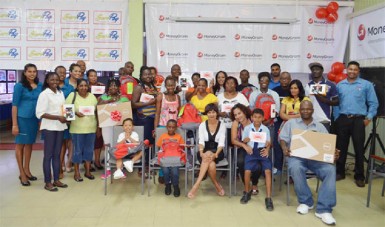 MoneyGram Country Manager Debbie Baldeo said the campaign received
a lot of support from customers across the country.
"We had winners from as far as Berbice, Linden and West Demerara this year and we are extremely pleased with the response," she said. According to a press release, the winners received prizes including tablet computers, CCS gift vouchers valued at $10,000 each and back packs with stationery items.
The recipients are Deopatie Persaud, Melissa Shepherd, Kleon Lindley, Wayne Fraser, Donnellie Griffith, Staceyann St Aubin, Ramdularie Rampragass, Colin McIntyre, Beverley Sutton, Devon Wray, Orin Tieshmaker, Jason Douglas, Vishani Lall, Wundah Butts, Elesa Singh, Nikita Wilson, Llewellyn Atwell, Glen Taylor, Dawnella Altenor, Andrew King, Colin Osbourne and Oran Moore.  Lavern Fraser, a surprise winner also received a tablet.
Baldeo also revealed that plans are in train to start the Christmas promotion in a few weeks.
Around the Web