The arrival of the National Geographic Explorer cruise ship, which docked in Guyana on Monday, is being seen as a major boon for the country's tourism sector, which could soon attract other high end cruise liners.
"When the big players start to come, you get more and more cruise ships developing interest in that destination… They might say, 'If National Geographic went,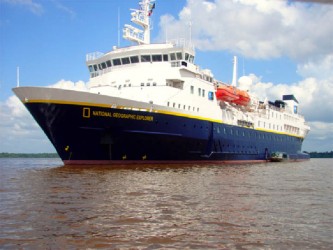 there has to be a reason.' And they start looking at that country," Shaun McGrath, Director of Wilderness Explorers, which is the local handler of the tour, told Stabroek News yesterday.
He explained that the tourism industry operates in much the same way as all businesses where persons see a particular item in demand and begin marketing it. "If a guy opens a fry chicken outlet in Georgetown, you will see several other persons moving to also open fry chicken outlets. Tourism is the exact same thing," McGrath said.
McGrath opined that Guyana will see many more tourist vessels as "infrastructure" over the years has been developed to make immigration and customs processing of visitors quicker and less stressful and marketing of the country has been constant and aggressive.
"Now the processing is quickly expedited. Back in the old days, there were one set of documents for every vessel… a yacht or any boat the documents were about 30 to 40 pages… the immigration officers went on board with this ship and quickly everyone was processed… now it is expedited to ensure that in about an hour the ship is cleared… that was not possible years ago," he said.
"It is also now way easier to sell Guyana. There is a lot of word out there internationally about Guyana and everyone who comes is pleased and they go back and say, 'Come and see Guyana….' We have been trying to get ships who do South America to include Guyana… we tried many years with Nat Geo… and it has paid off," McGrath added.
He informed that his company is responsible for the cruise liner's stops in the three Guianas and said that he remains optimistic that it will return to these shores.
Minister of Tourism Irfaan Ali echoed McGrath's beliefs, while adding that with the creation of the proposed deep water harbour, huge ships will be frequently docking in Guyana's waters. "When we get the deep water harbour, you will see ships like Carnival and those because right now even if they wanted to come our rivers are not deep enough for those things," Ali explained.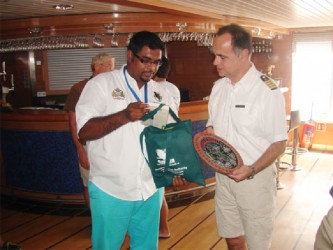 The ship's Captain Oliver Kruess pointed out that Guyana did not have the infrastructure required for the vessel to stop here years ago as there were not requisite smaller boats for guests to board and visit other locations. "In the past, when our ships were here, more than 18 years ago, Guyana didn't have much of an infrastructure in place… we skipped here and went down the Orinoco… in the middle, it was difficult to find something because there was not much infrastructure for a ship," he said.
Ali used his welcome to guests to announce that his ministry will host a cocktail party for them this evening, when they will sample local rum and beer along with Guyanese cuisine.
The cruise ship will spend two nights in Guyana and during the days here guests are scheduled to be taken to Kaieteur Falls and to watch animals here in their natural habitats, including birds.
The 120 tourists, mainly retirees from several countries around the world, paid a minimum of USD$45,000 for the 35-day expedition, which began in Trinidad and Tobago and includes visits to several countries in South America.
Around the Web