The Guyana Public Service Union (GPSU) believes its recommendations to government for wage increases and other benefits have fallen on deaf ears and will be looking at options over the next three days to address the situation.
"GPSU submitted to the government a multi-year proposal for increases wages, salaries and allowances for 2013, 2014 and 2015, including a request to meet to commence negotiations… Notwithstanding several reminders, to date we have not met. This conduct is in conflict with the government's obligation under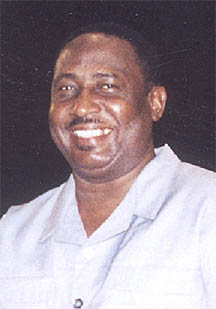 the Agreement for the Avoidance and Settlement of Disputes," President of the union Patrick Yarde told delegates yesterday at the opening ceremony of the GPSU's 20th Biennial Delegates Conference.
The conference, which opened at the National Cultural Centre, will run through Friday under the theme "Relentlessly Pursuing Good Governance, Decent Work, Social and Economic Justice."
Yarde later told Stabroek News that among other issues the union will be looking at the way forward given that its proposals have not been met. "That's what the conference will determine; that is a motion before the conference, in which the conference will pronounce on by Friday," he said.
Prime Minister Samuel Hinds, who is performing the duties of president, was present at the opening and said that he supports the call for increased wages "101%" and that government was currently committed to addressing the union's concerns.
During his address, Yarde consistently lamented the wages being paid to public servants in Guyana, leading to applause from members in the audience who chimed in as he spoke, "tell them boy Brother Patrick this can't be fair" and "we need more money".
"The remuneration being offered to public servants is not only unrealistic, but blatantly disrespectful and insulting, considering their hard work," Yarde asserted.
"Why? Why this treatment? Why the apparent malice? Why this apparent grudge? Why create a basis for disgruntlement and possibly disruptive behaviour? Why?
There appears to be the absence of a willingness to pay public servants, in general, adequate and acceptable increases in wages, salaries and allowances," he added.
He said that when GPSU submitted proposals to the Minister of Finance for the 2013 budget, it was hoped that some would be taken into consideration.
Instead, he said, to date none of the recommendations, including a 25% increase for public servants for this year, have been implemented.
Other union proposals include increasing the income tax threshold to $100,000 per month and reducing the income tax rate from 30% to 20% on taxable income.
It also proposes that there be a non-taxable allowance of $40,000 per month for dependants and a non-taxable allowance of $75,000 per month for students who are dependants and are pursuing tertiary-level education. The union is also supportive of a halving of the 16% Value Added Tax (VAT).
Yarde said too that allocation for increases in allowances, some that have not been reviewed since 1995, should be upped to meet the needs of the current times.
Yarde also voiced the GPSU's concern over non-existence of the Public Service Appellate Tribunal, which he pointed out has not been appointed despite repeated pleas since 2004.
"The unwillingness to reconstitute this body has been very frustrating, discriminatory and costly to public servants, forcing them to take matters to the High Court at high costs and to suffer lengthy time loss, while waiting for related judgments," he said.
"In fact, the existence of dysfunctional institutions in Guyana, have always resulted in the denial of the rights of workers and the general citizenry. The Public Service Commission has been a political football since the amendment of the Constitution in 2003. The two persons identified after consultation with bodies that appears to represent public officers are from unions with no legal relationship to public service workers and cannot even be considered as representatives of public servants," he pointed out.
He said he would have preferred to have President Donald Ramotar present as the union had planned a "trade union gaff," given that Ramotar has working class identity and could also hear their concerns first hand.
Hinds explained that while Ramotar wanted to be present, he had pressing duties as he is currently at the United Nations 68th General Assembly in New York.
Around the Web