US Ambassador Brent Hardt says Guyanese need to see officials prosecuted for corruption and other malfeasance if they are to have assurance that the justice system goes after persons who commit such crimes.
"…I would say that there is corruption in every country all over the world and there will always be corruption. The question is what countries do in response to that. That is the message that we and other western countries carry. No country is going to be without corruption but you've got to have the proper mechanisms in place, ideally, first to make it hard for corruption to take place and even with those institutions in place there will always be people who figure a way around them," Hardt told Stabroek News in an interview this week on a range of issues.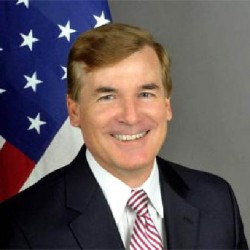 "They have got to have a good chance of being brought to justice. We have governors of states who are behind bars today. We have mayors of cities who are behind bars. Also, law enforcement officers," he said.
Hardt also cited the case of former US President Richard Nixon, who resigned ahead of an impeachment over wrongdoing. "So it does not matter how powerful you are, how big you are, you have to have the investigative and prosecutorial measures in place to go after corruption," he said.
He added that because of the strong measures in countries like the US, Canada and countries in Europe, companies that engage in corrupt practices overseas will not escape prosecution in their own countries. "There are companies that we continue to prosecute in the US. Other countries do as well. That is where the focus has to be here in Guyana… to look at how it investigates and prosecutes corruption. Will we see a high level official prosecuted for corruption? And if not, maybe you need to ask yourselves whether you need to strengthen institutions to get to that point where you can pursue a corruption investigation," he said.
"Again, it is a global problem and that is why the UN and the OAS and everybody are working on it. We are not innocent… we have issues but you can believe that you have a good chance of getting caught and end up doing some time if you engage in practices like that," he said.
Hardt also spoke of the care in which the US government selects its visa officers and other embassy personnel and said that while the officers may satisfy the screening process, they may yield to temptation.
In July, news broke that former Consular Officer Edy Duran was sent back to the United States just two months short of completing a three-year stint here, on instructions from the US Department of State to facilitate the 'visa for sale' probe. The Mission, Texas resident, who arrived here in 2011, allegedly sold visas to locals for sums ranging from USD$15,000 ($3M) to $40,000 ($8M), and it is believed that he had help from other staff at the embassy. He apparently fed off his friendships with locals of questionable character and frequented many places without clearance from the embassy.
Asked about the case, Hardt said that it was being investigated and it may take years for the probe to be completed.
"With regards to the reports and allegations relating to the issuance of visas here and one of our officers, all I can say is that there is an investigation that is on-going. It is likely that it will be a lengthy investigation. These investigations normally take about a year or three years depending on how complex they are," he said. "So there is really nothing more that I can say on it other than there have been allegations made. The allegations are being investigated. If it turns out that any of the allegations are true then that would lead to the appropriate law enforcement and personnel response," he said.
"There has been a great deal of speculation in the media and I am not sure on what basis such speculation is made because our investigation is very much still in the early stages and once there are some results of that certainly that will be clear to the public mind.
We greatly value the integrity of our visa process and it is something that we are constantly fine tuning throughout the world. We are issuing visa in almost couple hundred countries in the world and we have officers throughout the world. There is a great demand from many countries to get to the United States. So we are constantly looking at our processes and procedures [with a view] to improving them," he said.
He said that the screening of embassy staff is a very tedious process. He said that for the last round of hiring, 30,000 people applied for jobs and of this number 500 persons are hired. "We have the cream of the crop that tends to get through the process and once you get through the selection process you are given a thorough selection screening that is conducted by our Department of State's Bureau of Diplomatic Security and sometimes by the Federal Bureau of Investigations (FBI).
They look into your past… you have to provide them with a list of your friends and associates. People come knocking on doors to find out what you did back in your university days… it's pretty exhaustive," he said.
"Again, somebody might have had a perfectly clean record and then they are faced with a temptation in the visa line where somebody comes by and maybe they needed money and decided to do that," he said.
Around the Web