Collin Bowman yesterday took home his almost three-week-old daughter Keziha Sharon Bowman from the Georgetown Public Hospital (GPH), but still has no answers about what caused the death of his wife Sharon hours after she delivered twins on September 9.
The little girl Bowman went to GPH yesterday to sign for is only one of two daughters who were delivered by his 40-year-old wife; the other child passed away due to complications two days after the delivery. Bowman told Stabroek News that he has been communicating with the hospital administration since the death of his wife,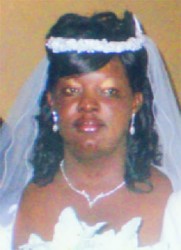 but he has been unable to get answers. "My wife went right there, right at the public hospital to go to clinic and the doctors can't tell me what happened to her," he said.
He stated that on the afternoon of September 9 when he took his wife for her scheduled caesarean section everything was fine and it was only the next morning when he went back to hospital was he told that his wife had died. Bowman told Stabroek News that since that day he has been asking and inquiring about answers. He said the report of the post-mortem examination which was performed on his wife on September 10 was lost for a period of time and to date he has been unable to find out what caused his wife's death.
"They didn't perform the post mortem on the Tuesday, they did it Wednesday but not till afternoon…They did it after lunch. I didn't know and then I was asking to see it and they couldn't find it. I come in the next day they don't have it," he noted that he has been visiting the hospital numerous times to find out about his wife but there is little response.
Bowman told Stabroek News that he was taking home one life when he had expected to be celebrating twins with his wife and their other children and he doesn't know how to explain this time to his children. He said, "I have just been asking doctors what happened. She was fine at the clinic. The doctors kept saying she was fine. She was doing good." He noted that it was after the delivery that things had to have gone wrong. Bowman told Stabroek News that doctors noted they induced labour although his wife was already scheduled for a caesarean-section, calling into question the handling of his wife's delivery.
"I have to know what happened to my wife, and no one is helping me to understand," Bowman noted.
When Stabroek News contacted the GPH's Public Relations Officer Mitzy Campbell, she said she could not say anything at this point and when more information was known it would be reported. Stabroek News asked what has come from the investigation, but Campbell said she could not confirm that an investigation was in fact underway at this time.
While Bowman was unable to attain the results of his wife's autopsy, Stabroek News was told that her death certificate lists pneumonia and high blood pressure as her cause of death. Bowman would like a full investigation to find out why doctors would induce labour if his wife was scheduled for a caesarean-section. He said that his wife's tragic death could have been prevented and his family needed answers.
Sharon Bowman was the mother of eight children. Her eldest daughter told Stabroek News, "she used to work, but stopped and stayed home to be a housewife… this has been so difficult for all of us," while adding that the death of her mother seemed surreal.
This marks the ninth maternal death case for the year and the fifth to have occurred at the GPH. In June, Orian Williams was air-dashed from Hotoquai, Region One in an unconscious state after the unsuccessful delivery of her twins and subsequent haemorrhaging on June 20. Another tragic death was Luan Rodney, who suffered a ruptured uterus at GPH after a difficult delivery on June 4.
Around the Web