An Essequibo businesswoman is dead and at least three other persons, including her husband are injured following a shooting in a bar on Barr Street Kitty early yesterday morning.
Details surrounding the shooting were still sketchy yesterday evening, although one relative of a victim told this newspaper that two masked gunmen carrying automatic weapons emerged from a white car and started firing in a bar called Mambo, located on Barr Street Kitty.
Police today issued the following press release:
"At about 0020h. yesterday Sunday September 29, 2013, Shelliza Lall, 33 years, of Charity, Essequibo Coast, was shot and killed, by two masked men, one of whom was armed with a firearm. Injured are Raymond Lall, 36 years, of Charity, Essequibo Coast, Permanand Persaud, of Mon Repos, ECD and Babatunde Nedd, of Parika, EBE.
"Investigations revealed that Shelliza Lall, her husband Raymond Lall, Badatunde Nedd and Permanand Persaud were at Mambo's Bar at Bar Street, Kitty, when the suspects entered and discharged several rounds hitting them.Shelliza Lall and Raymond Lall were taken to a private hospital where Shelliza was pronounced DOA while Raymond was admitted. Permanand Persaud and Badatunde Nedd were admitted at Woodlands Hospital. Investigations are continuing. "
There are conflicting accounts about the exact time this occurred, with one relative saying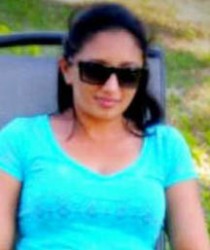 he was informed it took place around 11.30 pm Saturday while other souces said it happened closer to 2 am on Sunday.
Shelliza Basir-Lall, 33, and her husband, Raymond Lall, 33, along with two of their associates, identified only as 'Max' and 'Reggae,' were rushed to private hospitals following the shooting.
Relatives are convinced that the group could not have been the target of the shooting and speculated that they were collateral damage in a matter that had nothing to do with them. Stabroek News was not able to establish how many other people were in the bar at the time.
Basir-Lall was pronounced dead on arrival at the hospital and relatives say they were told by doctors that it was the result of a bullet which hit close to her heart.
Her husband, an Essequibo  miner, was shot approximately five times between the ankle and the hip, but was in a stable enough condition to talk to the scores of family and friends who crowded into the hospital room to see how he was doing.
When Stabroek News attempted to speak to Lall, the visibly distraught man said that it he was going throug a tough time and asked to be given some time with his family and friends.
His mother said that she heard of the news early yesterday morning and immediately travelled to Georgetown to see how her son and daughter-in law were doing.
She said that she was saddened to hear that her daughter-in-law had succumbed to her injuries, especially since the couple were looking forward to having a child some time in the near future. She was thankful though, that her son was still alive, although she noted that he came very close to losing his life just four days ahead of his 34th birthday.
"What a birthday gift," she exclaimed.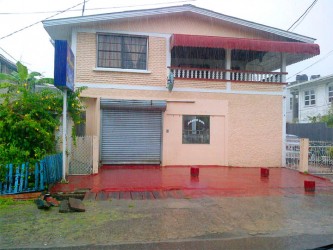 Lall operates a dredge in Region Seven, and this newspaper was told that he had been in Georgetown for most of last week in conection with his dredging operation. His wife joined him in the capital city on Thursday.
Lall's mother told Stabroek News that 'Reggae' acts as her son's driver whenever he comes to Georgetown, and he is reportedly the one who took the four to the bar where they usually hang out with friends and business associates whenever they are in the city.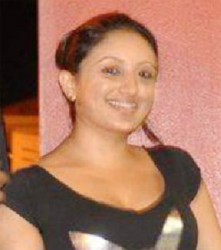 The bar is housed in the bottom flat of a two-storey house, while the upper flat is occupied by its owners. When Stabroek News visited the scene yesterday the owners admitted to knowing about the shooting, but said they were unaware of the details since they were all asleep when it happened. They only became aware of the incident, one of them said, some time after the fact.
Neighbours were also unable to say what happened. Those approached by this newspaper either said that they were not at home when the shooting took place, or were alseep when it happened and only became aware of it when they heard about it yesterday morning.
Around the Web