A North Ruimveldt businesswoman is now a prisoner awaiting trial on a charge of human trafficking.
Patricia Crossman is accused of using the promise of a bartending job to lure a young woman into prostitution at 14 Miles Issano, in Region Seven.
Crossman, 47, of Lot 306 North Ruimveldt, pleaded not guilty to a charge of human trafficking for the purpose of exploitation when she was arraigned yesterday before Chief Magistrate Priya Sewnarine-Beharry at the Georgetown Magistrates' Court. Despite applications by her lawyer, she was refused bail.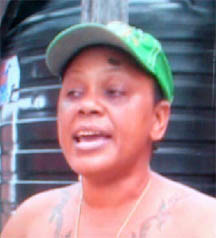 It is the police's case that on June 14, at Sussex Street, Charlestown, Crossman recruited a young woman for the purpose of trafficking.
Prosecutor Bharat Mangru told the court that the victim and accused were known to each other.
The victim, he said, approached Crossman seeking employment.
He added that Crossman, who is a businesswoman and has a shop at 14 Miles Issano, Bartica told the victim that she would employ her at her bar in the backdam as a bartender.
Crossman, the court heard, took the victim to shop for clothes and to a salon, where she had her hair and nails done. Mangru said the two then journeyed to Issano, where the victim claimed, there was already a bartender in the bar. It is alleged that upon clarifying her purpose there with Crossman, the victim was told that she was there as a prostitute.
Attorney Mark Waldron, who appeared for Crossman, affirmed her innocence. "My client does not know the victim, Your Worship. These are false allegations," Waldron said, as he pleaded for reasonable bail.
Mangru, however, objected to bail on the grounds that Crossman and the victim are known to each other the businesswoman may intimidate her. Mangru also cited the seriousness and the prevalence of the offence as further reasons for his objection.
In response, Waldron said that the case has been engaging the attention of the police for three months and during that time his client had not interfered with the victim and no such report was made to the police.
Despite his arguments, the magistrate refused bail and Crossman was remanded to prison until October 22, when the case will be called for report and a date for trial.
Around the Web