Last Thursday, Barama Company Limited was licensed by the Board of Industrial Training (BIT) to have an apprenticeship programme.
This partnership was formed in an effort to produce a better quality of technical training for youths while creating development opportunities.
A release from the Government Information Agency (GINA) said that the programme offers two years of training and study time and two years of work and training with the company and will cater for 15 trainees, nine of whom have already secured their spots. The company is collaborating with the Essequibo Technical Institute for this programme, since it has some of its operations at Buckhall in Essequibo.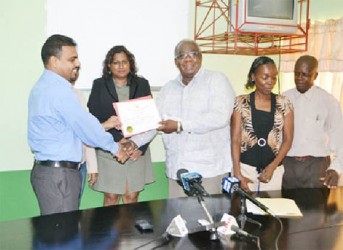 According to GINA, BIT Chairman Clinton Williams said that BIT is responsible for supervising all the apprenticeship programmes and he was happy to have yet another company on board. He also highlighted that BIT has been in existence for over 100 years and has been generating skills that have made Guyana reputable in a number of other countries.
Barama Company has been in existence for almost 22 years and deals solely with harvesting of timber and the processing of it into plywood.
Head of Corporate Affairs and Forest Planning, Mohindra Chand said that over the years the company has trained hundreds of individuals, the release added.
Around the Web