Women are dominant among emerging entrepreneurs at this year's GuyExpo.
"We are mothers from regions One, Two and Nine… we are looking this year at this expo to expand our market not really to overseas but first get a good local market and then we see how it goes. We want more local persons to know who we are," Kim Casimero told Stabroek News when the expo opened on Thursday evening at the Sophia Exhibition Complex.
She is one of many members of the Women Agro Processors Development Network (WADN), an organisation of six groups from three regions. They are the Aranaputa Processors Friendly Society, Wowetta Women's Agro-Processors Association, Waini Naturals, Pomeroon Women's Agro Processors, Helping Hands Women's Products and Blue Flame Women's Group.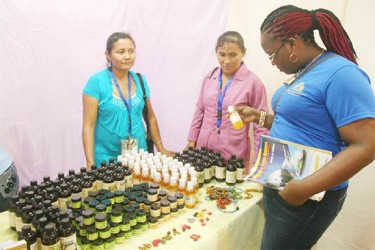 The organisation has one of the largest natural foods' booths at this year's expo and patrons will see on display a myriad of local items ranging from beauty care products to special select ground coffee, cassava bread, cassareep, cocoa sticks, ground seasonings and hot sauces from different pepper varieties.
The women were proud to boast that their products have no artificial preservatives and are made either from what they have planted or bought from farmers in their respective hinterland villages.
Many patrons flocked to their booth as on opening night it seemed that buyers were looking for organic products. United Kingdom resident Andrew (only name given) told this newspaper that he has been travelling to Guyana for the past three years and since discovering the local cocoa sticks at Nigel's Supermarket he has not stopped buying. The cocoa sticks, he explained, were his secret ingredient in his much sought after Rum and Cocoa Cake. "The cake itself tastes best because you get to use all local products the local rum, sugar, cocoa and while the flour isn't made here I'm sure it's processed here…," he said.
"I think it is good that there are so many local natural products because in addition to it being healthier you are also contributing the local economic sector," he added.
Products such as bottled seasonings, achar, tamarind balls and mittais, which WADN had on sale, were also being sold by many other women at the expo. Each said her product was all natural and had its own unique blend either due to special ingredient blends or processes.
Groups and individuals such as the Young Christian Women's Christian Association (YWCA) of Berbice, the Women of Region 5, Rita Francis of Annai Region 9, Anisa Rasheed of Region 2 and Laura of Region 8 were spread throughout the pavilion and all proudly displayed items made with their hands from local products.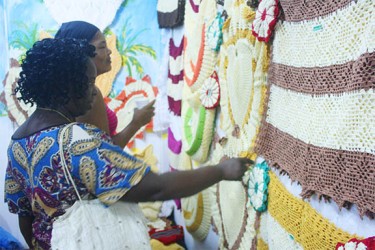 Annai business organisation 'Medicines from Trees' displayed bottled concoctions made from the Tarataraye and Kiambe trees, which were said would cure skin ailments and maladies. They said that these were further blended with other herbs. The women displayed their unblemished skin as testament that the products work.
However, women entrepreneurs' displays were not limited to food and medicinal items. Amanda Williams-Clarke of Williams Legacy wowed her audience with unique jewellery boxes which she had hand crafted from local woods.
Fetching a price tag of $120,000, a map of Guyana jewellery box had the crowd of mostly women in awe. In each of the ten regions there was a compartment for varying pieces of jewellery. Williams-Clarke noted that her wood items were one of a kind as they also teach the owner a little of Guyana. "Not only will people learn about the geographics and woods of this country but they have an eco-friendly item…," she said.
Further, she said that some of the boxes were designed to look like household ornaments and puzzles, proving to be a security conscious way of storing valuables. "This one (tree stump in shape) no one would ever think that there is anything in here, you get to keep it where you can see it and it's safe with all your gold and things …" she said.
She also pointed out that as her business was environmentally-friendly, she only used wood from felled trees and byproducts of other woods so that nothing is ever wasted.
Dawn Squires is a chair back and doily maker and her story was a bittersweet one. She said that while the expo is her way of marketing her products she comes to this year's with great trepidation as last year she lost all her chair backs at the Guyana Interfest. "I am hoping the security will be good because I am so hurt…at the Interfest all my work was stolen when the organisers had promised to have security," she said.
"We couldn't take home our stuff they said the minister said the things must remain and they will have security and someone came and thief out all we things… I lose about half a million in stuff and people lose more… What hurt was that no one from the ministry or the organisers came to say look $100 help buy back yuh thread," she said.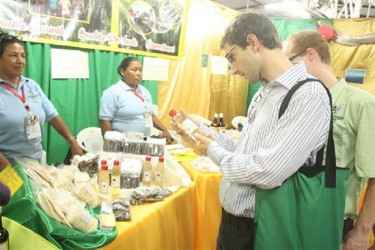 Nonetheless, she said she hopes that patrons will see her work and patronise her so she can repay the monies she borrowed to be part of this expo.
Other booths of interest at the expo include the Chinese Pavilion with some seven companies visiting from China. There is also an international booth where persons can learn about educational opportunities, trade agreements and where there are foreign-based businesses displaying mostly clothing and female accessories.
Around the Web