Two Corentyne fishermen have been missing since Tuesday after pirates attacked their boat and another in Surinamese waters.
Survivors of the attack say that 42-year-old Rakesh Persaud called 'Pork Soup' and Rajin Ramsammy, 22, called 'Kishan,' both of John's Housing Scheme, Port Mourant, Corentyne were tied up by their attackers and thrown overboard. They have not been seen since.
One of the boats' captains, Derek (only name given), of Number 68 Village, Corentyne, was taken hostage by the pirates but was eventually rescued at a location known as Red Light in Suriname. The survivors of the attack floated for two days at sea before being rescued. The six men rescued were: Avanda Rampersaud, 46, of No.79 Village, Corentyne;  Ravin and Ravi, both of No.65 Village, Corentyne; Adolphus Holder, 30, of No. 65 Village, Corentyne; Karran Singh, 22, of John Settlement; and another man identified only as"Smack," and said to be of Tain Village, Corentyne.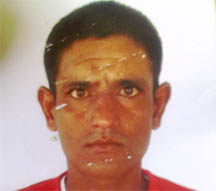 Stabroek News understands that on Tuesday masked pirates in Surinamese waters hijacked Tara 1 and Oly 5. They stole a 48-Horsepower Yamaha outboard engine valued at $800,000, a fishing boating worth $700,000 and a quantity of fish valued $144,900.
According to Singh, he and five others were playing cards when they were attacked. Singh recalled that at least three armed men invaded the Tara 1 and started to brutalise them.  He said that the masked men broadsided them with cutlasses. One of the men then later him up with pieces of a bed sheet and threw him overboard. "Dem tie up meh hands and foot…but me move, move meh hands and my hands loose out," he said. He recalled that after he freed his hands, he was still floating in the water. However, he was then pulled out of the water by the bandits and thrown onto the seine in the boat.
Singh said that after he returned to the boat, he and other crew members were sent to the cabin. "When we go in de cabin and Derek asked for the other two, they said, 'We na know….' Den we realise that dem man missing," Singh said.
About six hours after, Singh said that the pirates motored off with Derek though Persaud and Ramsammy were still missing. He said he learnt that the men later hijacked another vessel around 7 pm. Singh said that the pirates used Derek to pilot the vessel and robbed the Oly 5.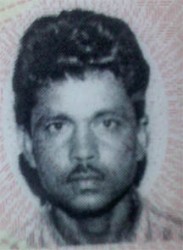 Stabroek News was told that when the armed men entered the Oly 5, they questioned how much fish had been caught. After they heard the amount of fish caught, the pirates started to broadside the crew members before eventually transferring them to "Tara 1." The five- member crew joined the other victims as the bandits escaped.  Before the bandits fled, they wrecked the engine of Tara 1 and left the crew members to float in the river. Boat captain Derek was kept as a hostage and later rescued at Red Light in Suriname.
Seerojanie Persaud, Ramsammy's mother, yesterday told Stabroek News that a neighbour informed her that her son and her brother, Persaud, along with others were attacked at sea.  She said they ventured to the No. 66 fisheries complex and waited in hope that the men would come in.
According to Singh, after being abandoned by the pirates, they floated for two days before they were rescued. Singh said that to his knowledge Derek made contact with the fisheries at the No.66 fisheries complex and the owner of Oly 5 after hearing of the attack sent a boat to rescue them.
Singh told this newspaper that he is a cane harvester but he had heard of fishing expeditions so he decided to take a trip. He added that it was his first trip and after having a close encounter with death he would not go on another voyage.
Over the years piracy on the Corentyne River has been a major issue. Fishermen have been complaining bitterly about the terrors they are faced with and the lack of coast guard support. Several months ago, fishermen who were attacked in Guyana's waters contacted the Surinamese coast guard as they were unable to get a response from the local authorities.
Some families and law enforcement officials have cast doubts on some of the explanations given by fishermen after attacks at sea. In recent years a number of fishermen have gone missing after reported pirate attacks and have not been seen again.
Around the Web