The Rights of the Child Commission (RCC) views the fatal shooting of Vive la Force teenager Ryan Persaud with concern but there is not much that can be done at this moment since the matter is in the hands of the police, says Deputy Chair Rosemary Benjamin-Noble.
"As far as we are concerned, the matter is under investigation, so it remains within the domain of the police," Benjamin-Noble told Stabroek News, while adding that at the moment the RCC has not seen the need to make any intervention.
Previously RCC has said nothing publicly on the shooting, which occurred on September 2.
Benjamin-Noble said it was very regrettable that the child died and more so in the manner that he did. "You would think that the safest place that one can be is at one's home," she noted.
She said the shooting is of concern to RCC, since a person and more so a child would find himself a victim of what seems to be somebody playing with a weapon and probably testing it to see what it could do.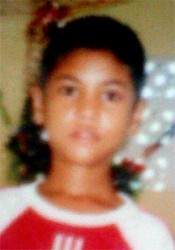 According to Benjamin-Noble, the difficulty is that because of the nature of the matter and the nature of criminal matters which have to find their genesis in the work of the police. "It becomes difficult for any other organisation to do much other than to urge the police to still keep the case open for as long as they possibly could and have their detectives keep on trying to get information," she said, while noting that sometimes there is a person who knows a lot more than anybody else who may come to the fore with critical information.
She said she knows that ballistics in this case is very important and difficulties in matching the bullet may weaken the case. She added that there is not much more that RCC can really do other than urge anyone with information to come forward and share it with the police.
Crime Chief Seelall Persaud had told this newspaper on September 10 that the matter is at a dead end after the "part of the warhead" recovered from the child's body did not have the required marking for a comparison. He explained that what they had was the inner part of the warhead. He said that they didn't have the outer part, which would have markings and which could have been used for comparison purposes.
Persaud had opined that the warhead first hit something and a fragment came off and struck the teen. The child was hit in the back by what residents had described as a stray bullet, which was suspected to have been fired from a boat moored on the Demerara River.
Contacted a few days ago, Persaud told this newspaper that nothing had changed and that it still as appears as though the case is at a dead end.
Asked how she felt when she first heard of the shooting, Benjamin-Noble said that she was "appalled. I had never thought that I would see something happening like that in my own country and to a child, worst yet."
She said children expect protection and ought to get it from adults. "It saddens me tremendously that in this case this very action would likely have been done by an adult to a child and I wouldn't even talk about whether it is intentional or accidental because one should not have a weapon firing at anywhere unless it is legitimate warfare," she said.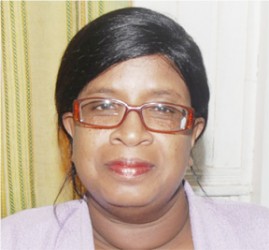 Benjamin-Noble said that previously the RCC had looked into the matter involving teenager Kelvin Fraser, who was killed by police. She could not say what the status of the matter was, but recalled that the RCC had written to the then police commissioner Henry Greene urging a review of all protocols as it relates to the rules of engagement when it comes to those types of situations in order to prevent a reoccurrence. She said the RCC had also invited the Ministry of Education, to also look at it.
Benjamin-Noble said that there was never "much of a response," which she said was regrettable.
Encouragement
Meanwhile, Karen De Souza of the Red Thread organisation said that the shooting is another way in which "we are failing to protect our children."
Further, she expressed concern over a subsequent call by acting Police Commissioner Leroy Brumell for licensed firearm holders to use their weapons for defence purposes. "I have a real problem because instead of limiting the number of weapons, instead of taking action to do that, what we have is more encouragement for persons to use weapons," she said.
The amount of firearms given out should also be limited, she said, while noting that every second businessmen are given firearms licences and the criminals are also getting guns from "wherever they are getting guns and we are talking about giving police bigger weapons and giving them even more license to kill."
She added, "So there is something very seriously upside down in how this whole crime situation, the deaths and the protection of children [are] being dealt with."
When she first heard of the fatal shooting, she immediately remembered the case of Fraser, which she said was not satisfactorily dealt with. The matter was taken to court but it is unclear if the preliminary inquiry has ended.
She stressed that there is very little being done and no example being set for the children about dialing back on the violence. "In fact, in just about every official institution what we are saying to kids is that violence is the way to go.
"So, we are debating in the schools about whether we should be beating the children or not instead of equipping the teachers and giving the teachers support so that children are not beaten," she said, while noting that violence has become how we sort out disagreements.
Asked if her organisation has taken any particular interest in the case involving Persaud, De Souza said that they have failed to follow up the matter partly because of resources issues. She said though that they are working with other persons in the area in relation to other issues.
She, however, pointed out that the police have an enormous amount of work to do to rebuild public trust both in their professional capacity and in their integrity. In respect of this case, she believes that a public statement should have been made. "I believe that the police, as the grouping in society that is responsible for service and protection, owe the surviving relatives of this child, a massive, massive apology," she said, while adding that the state has a responsibility to deal with the emotional hurt that has been done to this family.
De Souza added that the main thing is about the police understanding what their responsibility is, while adding that the force has "enormous power in this country."
She said if you have power, then you have the responsibility to use it properly and in a humane way, instead of using it with arrogance and using it to victimise other people.
She said that so far she has not really seen serious intent generally to reshape the image of the force. She said that she thinks that is the work that has to be done.
"We can talk about all the training in the world. If the ethic of the agency is not a decent ethic,   then training is not going to take us anywhere," she said, while noting that there should be public discussion about the technical capacity of the force and whether it makes sense to farm certain operations out to civilians.
"If there is no public trust in the police force and police come to me and say forensics say it can't be the bullet, I don't believe you and you can repeat it all you want. I am not going to believe you," she said.
Asked about her views on how police treat matters involving children, De Souza said that almost daily she finds both sides of what she would want to see. She notes that there are officers that operate totally professionally and are totally humane when they are dealing with people while at the same time she deals with police who "should not be in the police force, who need some major retraining." Unfortunately, she said that what the average person sees is the side that "we don't want," which she noted happens in every organisation.
She said that as an adult population we ought to take much more individual and collective responsibility for what is happening to children, their protection, safety and upbringing. She said too that being vocal is also something that is needed.
Asked if her organisation would probably be looking into the shooting death in the light of the comments made by the crime chief, she said that the question is one of capacity. "I don't know that we have the capacity to do that because there are so many other police and court matters that we are trying to follow and stay on top of," she said, while adding that as hard as it is the people who are affected by officials have to stop being fatalistic and stop giving up.
She noted that it takes a lot of determination and the only way that we can have citizens change the way institutions operate is by standing up, either individually or collectively, to insist that these agencies do the work that they are supposed to be doing.
Around the Web