The woman who it is alleged is behind Thursday's attack that left Linda Phillips hospitalised with several stab wounds, is in police custody and has denied any involvement in the attack.
The woman's lawyer Sanjeev Datadin confirmed with Stabroek News that his client is in police custody, but said she knows nothing about the reports being peddled in the media. "It is regrettable what is being carried in the media. When we discovered that the police wanted to speak with her, I took her down to the police station. She was detained since Thursday. My client knows nothing about this attack on this woman. She knows the woman who they detained, but she has denied any involvement in this attack," the attorney said.
The female suspect who was arrested shortly after the attack had named the woman as the person who orchestrated it. She had claimed that she was promised $130,000 if she got rid of Phillips.
Meanwhile, Datadin's client's daughter, who also spoke with Stabroek News, said that her mother was looking after the victim's child at the time of the incident, and knew nothing of the attack.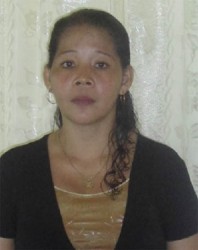 "Why would my mom want to kill her? My mother never met her. This man [Phillips' reputed husband] telling a set of lies. He claiming how he left [her], but my mom has been living in his house in Cummings Lodge for the past two years. My mother knows about [Phillips] and that they have a child together. …He does even bring the child for my mom to take care of him," the daughter said.
Gary Carrington, Phillips's reputed husband, said the female suspect who was caught by residents shortly after the attack was someone he knew. "I know her well because she used to come by my house when I was with my ex-girlfriend. She and this woman's son were in a relationship and they used to live in the same yard in Princes Street," he added.
When asked why a report was not made to police after a man had warned Phillips some time ago that someone had been hired to harm her, Carrington said that he didn't think anything of it because the man never returned with any concrete proof implicating the woman. "He said that he had tapes and records of the woman saying that she will pay the guy but he never returned after he promised to do so the following day, so we brushed it aside. I can't believe she would want to do something like this to Linda," the man said.
The man was adamant, however, that he and the alleged mastermind severed ties years ago. "We were never married… She move in, in October 2009 [and] we broke up two months after and then I meet Linda in April," he said. "She used to call me saying that she want me back but I told her that I moved on with Linda. She knows Linda, but Linda don't know her."
Phillips had recounted that the young woman who claimed she had just returned from Cuba had approached her under the pretext of carrying out a medical outreach in the area.
After gaining her trust, the woman and her male accomplice entered her home where they carried out the attack. She was stabbed five times in her back and collapsed at her front gate after which she was rushed to the Georgetown Public Hospital.
Around the Web