A New York-based  Guyanese man has been charged over a brutal road rage assault on a Manhattan man on September 29, according a report in yesterday's New York Post.
Reginald Chance allegedly yanked Alexian Lien out of his car and beat him in front of his family after a wild chase on the West Side Highway, according to the report.
Chance, 38, of Brooklyn,  identifies himself on Facebook as hailing from Guyana and he had a distinctive Guyanese sticker on his bike at the time of the attack. Chance is said to be the top accused in the shocking motorcycle road rage attack, an assault that left Lien, 33, pummelled and bleeding on the pavement as his wife and 2-year-old daughter cowered in their black Range Rover.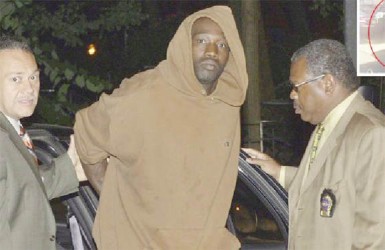 After a series of lineups on Saturday, the report said that Chance was charged with first-degree gang assault, assault and criminal mischief and is now awaiting arraignment. The incident occurred during a biker rally. The report said that Chance has a rap sheet with 21 prior arrests. According to the report, video taken by the helmet-mounted camera of another biker Kevin Bresloff shows Chance allegedly committing the bulk of the violence once Lien's Range Rover was forced to a stop near 178th Street.
Bresloff had his camera rolling as Lien's car was surrounded by revving motorcycles and as Chance removed his chrome-coloured helmet and used it to smash the driver's-side window.
Just before Chance allegedly pulls Lien from the car, Bresloff's video abruptly ends — turned off, cops say, so as to avoid creating an incriminating record of the ensuing assault. Cops aren't buying Bresloff's claim that his camera "accidently" shut off, another law-enforcement source said. Meanwhile, newly surfaced videos and photographs, taken at the scene of the attack by neighbours and drivers, could incriminate other bikers — including some who told cops they were not involved in the attack. Another man, Robert Sims, has also been arrested in connection with the vicious crime.
Around the Web