The family of Christine Dutchin, the young mother who recently died weeks after delivering a dead full-term foetus via C-section, is accusing the Georgetown Public Hospital of not giving her proper care and contributing to the deterioration of her health after she opted for discharge.
Dutchin, 25, of Land of Canaan, East Bank Demerara, died early on the morning of September 28 after suffering from bronchial pneumonia,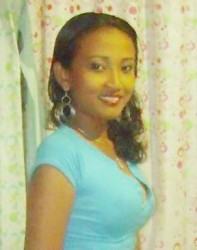 a blocked heart and an infected lung.
She had been transferred from the Female Medical Ward to the Intensive Care Unit (ICU) four days earlier.
According to Angela Khandai, no mention had been made of a heart condition prior to her sister's readmission in the hospital, almost two  weeks after she sought self-discharge due to the unbearable treatment she was receiving from nurses.
Dutchin's was the 10th maternal death for the year and the sixth to have occurred at the Georgetown Hospital. Prior to her death, Sharon Bowman, 40, and one of her twin girls died at the hospital on September 9.
Dutchin, who is survived by her husband and their six-year-old son, had been expected to give birth to her second child at the end of September.
Khandai noted that she had been attending a clinic on the East Bank Demerara and every month she had been sent to have an ultrasound done, which she did.
Khandai, who spoke to this newspaper from her home at New Amsterdam, said that on September 4 her brother-in-law rushed Dutchin to the Diamond Hospital, where they were told that their baby was dead. She was transferred to Georgetown Hospital but because of the unavailability of an ambulance they were forced to take her in a car, resulting in them spending two hours in the traffic.
"She reach public hospital till around 1 pm when she went at Diamond at 11 am and by that time she soak up the car with blood," the woman said.
At the hospital, the husband was again told that the baby was dead and that it would be removed via C-section and that Dutchin would be kept for observation. They were told that because the placenta had burst inside of Dutchin the foetus had suffocated.
According to Khandai, for the next two days her sister was kept in the recovery room at the theatre and her family was not allowed to see her until she was moved to the maternity ward; she was crying out in pain. "Her tummy was very high and she keep saying that it was paining at the bottom but they keep giving her blood and saline," she said.
On September 9, Dutchin told family members that she was expected to be discharged that afternoon. However, the doctor treating her later told her that she was suffering from high blood pressure and she could not go home.
Khandai said whenshe visited her sister the following day, the doctor was administering medication to her for the high blood pressure. In her presence, she said, Dutchin informed the doctor that the reason her pressure was high was because she was in the maternity ward and all the mothers had their babies while hers had died and this was affecting her.
She also told him that she wanted to go home because the nurses were ill-treating her. Khandai recalled hearing a nurse saying, "she want princess treatment, she want attention." She said a nurse had also refused her sister's request to visit the toilet and told her to use the diaper she was wearing at the time instead.
"The next day when I went back, she pack her bags and say she taking self discharge because they only treating her for high blood pressure and she said if she go home the pressure would go down," Khandai recalled.
As a result, Dutchin returned to her Land of Canaan home. However, she soon developed a very bad cold and sometimes she would sweat so much that her entire bed would be soaked.  Her husband was forced to take her to Diamond Hospital on September 19, where she was given a bag of saline, sleeping pills and a bottle of Ferraton tonic for the cold. They told the family that she had bronchial pneumonia but released her the same night.
As a result, Khandai said she took her sister to Berbice to take care of her. However, the cold got worse to the point where Dutchin could not sleep. She was taken to the New Amsterdam Hospital on September 22 and was attended by two doctors, who informed that apart from pneumonia the woman's heart was blocked by a blood clot and that she had an infected lung.
As a result, they ordered her transferred to the Georgetown Hospital.
Again, Dutchin's transfer to Georgetown was delayed as there was no available ambulance and according to the sister it was not until September 24 that she was finally moved. By this time, she was spitting blood. Upon arrival around 1 pm, she was seen by a doctor, who did an x-ray, gave her oxygen, saline and administered an injection. She was then placed to sit in a wheelchair around 5 pm and was never taken to a ward around 1:30 the following morning.
Khandai said when she visited Dutchin the following day, there was a bedpan by her side which was half way filled with blood. Nevertheless, her sister remained positive even though she could not eat anything by this time.
According to Khandai, the doctor later sent for her and other relatives and informed that her sister was very sick and that she would have to be taken to the ICU but before that they would have to put her on life support in an attempt to stop her lung from bleeding.
"She tell we when somebody go to ICU is one foot in and one foot out and tell we to go and say our last words to our sister. I keep asking where she get blood clot from to block her heart but nobody not answering," the woman said. Khandai said she later learned that they were not treating her sister for the heart problem and she behaved badly.
Apart from calming her down, she said no effort was made by the hospital to address her sister's heart problem and while she attempted to move her to a private hospital, she succumbed before this could materialise.
Dutchin's family is maintaining that had the hospital treated the woman properly from the inception, she might have been alive today. Khandai said while her sister did suffer from a shortness of breath, they never knew she had a heart problem, which she felt the hospital should have detected at an early stage.
She pointed out that prior to her sister taking her own discharge, she was only being treated for high blood pressure. "And I feel that they did not clean her out proper when her afterbirth burst in her and that is what caused the clot that blocked her heart," she charged, while noting that the family wanted to make the story public in an effort to have the hospital take better care of patients.
Christine Dutchin was laid to rest on October 4.
Around the Web