Expectant mothers are continuing to die and the country's prospects for attaining the Millennium Development Goal (MDG) on maternal health are grim but Health Minister Dr Bheri Ramsaran says he remains optimistic.
"We have been trying to maintain that but it is borderline now… this is a fragile one, this is a borderline one and this is what happens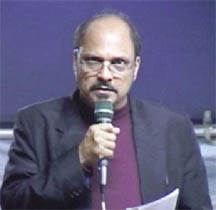 when you are dealing with small numbers and a shift of one or two can throw you out of whack," Ramsaran told Stabroek News yesterday.
Nonetheless, he said he remained optimistic and hoped that the various measures the ministry has put in place will help to decrease the number of maternal deaths and put the country on course to reach the MDG 5 target, which calls for a reduction of the maternal mortality ratio by three quarters.
The maternal mortality rate is the annual number of female deaths per 100,000 live births from any cause related to or aggravated by pregnancy or its management (excluding accidental or incidental causes). It includes deaths during pregnancy, childbirth, or within 42 days of termination of pregnancy, irrespective of the duration and site of the pregnancy for a specified year. Within Caricom, Guyana's maternal mortality rate is second only to Haiti, which has a rate of 350/100,000. However, considering that Haiti has a population of 10.1 million, compared with Guyana's 750,000, Guyana would be deemed to have a more alarming mortality rate in terms of its population density.
UNDP Resident Representative Khadija Musa had told Stabroek News earlier this year that MDG 5 seemed difficult to attain. "One goal that seems difficult for Guyana to meet by 2015 is MDG 5 maternal mortality. I would point [to] that as a pressure point for Guyana… I know they are doing everything that they can but it seems hard," she had said.
While Ramsaran did not give a number of mothers who have died during delivery, Stabroek News has reported on 11 for the year. The number, however, only reflects deaths of persons whose families publicly spoke out.
The Health Minister informed that recent maternal deaths were being investigated. He said that while his ministry and government are disappointed upon learning of each case, he was pleased to note that reports into each death were mandatory and swiftly reported.
Ramsaran promised that when the reports are completed Chief Medical Officer Shamdeo Persaud will discuss its findings.
However, for months Stabroek News has been trying to reach Dr. Persaud, through visits to his office, through calls both to his mobile and office numbers and through emails but to date all efforts have been proven futile.
Ramsaran said that he remains hopeful that the goal will be achieved and outlined many measures that the ministry has taken to boost maternal healthcare at the public institutions." We are still hopeful and we have taken steps in the last few years…," he said, while identifying the Cuban-trained doctors who have been trained in the ALARM programme as one such step.
He also noted that the batch of newly trained doctors were put to work alongside veteran obstetricians and gynecologists, so that if there was an emergency and the doctors were in surgery the juniors will be able to hold the fort.
Around the Web