The fatal robbery of Hampshire businessman Devindra 'Dave' Deodat was carried out by teenage boys, according to his widow, who says her husband was shot after she and him managed to unmask one of the robbers during the home invasion on Monday.
Shaneeza Deodat, 29, who suffered a chop to her head after she helped her husband to confront their attackers,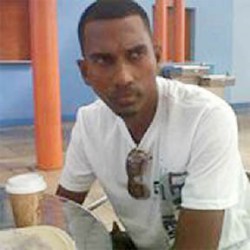 yesterday called for an investigation of the police over their belated response despite several calls to them.
Police yesterday did not comment on complaints about the response of the stations that were alerted about the robbery, but did report that six persons had been taken into custody as part of the ongoing investigation.
Dave Deodat, 34, of Lot 72 Hampshire, Squatting Area, Corentyne, Berbice was shot to his chest, chopped to neck and hands and one of his fingers was severed in the attack at his home. His father-in-law, Rafeek Abdul, called 'King,' 57, of Lot 63 Williamsburg, Corentyne, was shot twice to his shoulder when he rushed to the residence after learning that bandits were there.
Shaneeza, who carried stitches at the top of her skull after receiving treatment at the Anamayah Memorial Hospital, at Belvedere, Corentyne, called the attack the most traumatic event of her life.
The woman believes that the three robbers went with the intention to kill. Each of them, had a gun and two were armed with cutlasses. Shaneeza said she and her husband tried to save themselves by struggling with two of their attackers, who were still terrorising them with demands even after they handed over $600,000 in cash, a gold band and the day's earnings from the shop at their home.
However, one of the robbers attacked the couple after he saw what was happening. Shaneeza said they managed to pull off the mask from one of the robbers, which resulted in Deodat being chopped and shot.
With tears in her eyes, she recalled that after her husband was shot, he looked into the face of the shooter and said, "Look how ayo a kill meh buddy," and took his final breath.
'Boys'
"They are boys not men…," Shaneeza said, describing their attackers, while questioning what is happening in the society and what parents are teaching their children. She noted that she has a 10-year-old son, who she tries to teach right from wrong. "After he see what happen to his father and us… what do you think I should teach him now," she asked.
Both her son Junior and her 14-year-old daughter Sarita were at home when the attack took place and the girl was the first to spot the robbers and raise an alarm.
Sarita had just returned from Mandir and she was gaffing with her father's 'gym buddy' and a regular visitor to their shop. She explained not long after she turned and saw "boys" with guns in their hands. She turned around a second time to confirm what she thought was her imagination and spotted the three robbers with long guns.  She said two approached from the eastern side of the house while another walked in from the west.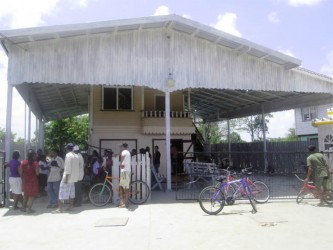 Although she was told not to make any noise, she screamed out in an effort to raise an alarm. She said she was soon held at gunpoint and taken to the kitchen along with the two male companions.
Her mother, who rushed outside thinking that one of the family's dogs had attacked someone, was soon greeted by the three men and their guns.
She said they were put to lie on the floor and the bandits started to demand cash and jewellery. By this time, the now deceased businessman, who was preparing to leave for gym, was broadsided and place to sit on a chair.
The robbers demanded money and fearful for her family's lives, Sarita took one of the robbers with her to the upper section of the home, where she handed over $500,000 cash from her father's bag, $100,000 from a room and a cricket band. They also took a laptop but were satisfied with what was given to them and returned downstairs and continued to demand more cash and jewellery.
According to Shaneeza, she told the robbers to go into the shop and take the change from the afternoon's sales. They took "everything, even on to the last twenty dollars from the shop… everything we work for they gone with," she said, while adding that they returned from the shop and continued to demand more. "Them see this thing a shine (pointing to a hand band) on meh hands and them a hurry come pull it out. Meh had to tell them is artificial… meh tell them because of thief man me na buy jewellery," she said.
It was at this point that the robbers spotted Abdul approaching from the half closed door and shot at him.
Abdul, who was transferred to the Georgetown Hospital, yesterday said that he received a phone call that bandits were at his daughter's place and he immediately rushed over. "I get a call from somebody that bandits by my daughter and that is how I end up going…Soon as I reach the gate they fire a shot, but that didn't catch me," he told Stabroek News from his hospital bed yesterday.
Abdul said that while he was running under the house, more shots were fired and that is when he was hit and subsequently after the three robbers ran away. Abdul sustained gunshot wounds to his left hand and chest.
'Paid to protect our lives'
After shooting her husband and chopping her, Shaneeza said, the robbers heard shouts from the neighbourhood and they became agitated. They took her with them upstairs and she led them out the veranda door, which she locked as soon as they walked out. The men stayed on the veranda sometime before they jumped off and made their escape, while releasing rounds to scare off villagers. They encountered Shaneeza's brother as they ran off and he was robbed.
At the scene of the crime on Monday night, villagers were heard shouting at police over their late arrival.
Stabroek News was told that police arrived approximately half an hour after the attack.
Shaneeza said many persons called the neighbouring police stations at Albion, Whim and Rose Hall Town only to be told that the officers had gone on patrol. She added if the police had arrived promptly, they would have been able to arrest the robbers.
"…Police could have caught them, they were on the veranda for some time," said the distressed mother and mourning wife, who also noted that persons have told her that a police patrol vehicle was parked up at the Hampshire ball field.
The woman said she would want the lawmen that were in the patrol vehicle to be investigated in order to determine why they did not respond. "They [police] are being paid to protect our lives and when things are happening to hard working people like us they are not responding," she said.
The mother also condemned the police for verbally harassing her 14 year old daughter into giving a statement. "Why they had to that? The child just witness her father being killed… I had to cuss up the police and put them out the yard," she added.
The woman indicated to this newspaper that she had not yet given a statement to the police.
Police investigators were still conducting investigations at the scene when this newspaper visited yesterday. Some were dusting for fingerprints and taking pictures of the scene. Police yesterday had not yet gone through the tapes from the surveillance cameras at Deodat's home, which they were hoping would have recorded the attack and aid in the identification of the attackers.
Meanwhile, when Stabroek News was leaving the area, residents found a red kerchief, which was suspected to have been discarded by the one of the robbers as they ran off. Many villagers and family along with friends of the deceased were offering condolence to his family.
Apart from the shop at his home, the deceased had also sold sand and owned several trucks with the brand 'Cool Runnings.' He had been operating the business for over three years.
Around the Web