One million dollars in loan prizes were awarded on October 4, 2013 at a simple award ceremony held at the Republic Bank (Guyana) Limited's Corporate and Commercial Credit Department at the Camp Street branch to the top three 2013 graduates of Empretec's 'Venture Out for Women.'
A release from the bank said that it believes that its support for this programme underscores its social investment objective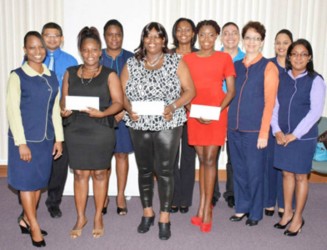 of building stronger communities.  The first prize was awarded to Jennifer Holder while the second and third prizes went to Michelle Alphonso and Kerry Woolford respectively. Republic Bank has sponsored Empretec's 'Venture Out for Women' since 2010 with positive results and evident business growth and success among participants.
This year's participants had the added benefit of being eligible for security-free loans from Republic Bank.
The loan prizes totalling $1,000,000 were given to the participants with the top three small business proposals which were submitted after the completion of the programme in June 2013. These loan prizes did not require collateral security and attracted a lower interest rate.
The Venture Out programme specifically targets women entrepreneurs, after the partners, Empretec and Republic Bank, recognised a need for this focus.
Both global research and local experiences reveal that the needs of women entrepreneurs differ significantly from that of men. 'Venture Out for Women,' allows for the education, motivation, empowerment and networking among groups of women with a view to creating and developing confident and successful businesspersons, the release added.
Around the Web