The Avon Community Help Fund on Friday donated $350,000 to the Cancer Institute of Guyana to pay for mammograms for uninsured and low-income women.
Chairperson of the Early Detection Breast Cancer Screening Project for Avon, Mignon Bowen, said the cosmetics company recognises the importance of women being able to access breast cancer screening services. "Under this project we have provided the financial re-sources for the mammograms to be conducted at a reputable institution,"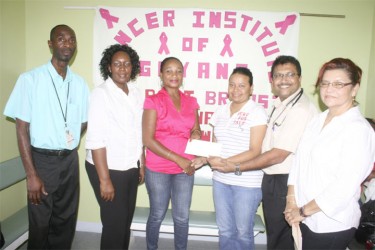 she said, while adding that it was Avon's aim to help eradicate the 'barrier' of the high cost of mammograms.
She encouraged women to visit the Cancer Institute and take the test early so that doctors can start helping them if they are found with cancer.
According to Bowen, Guyana has a high percentage of breast cancer cases, with most of the patients being between the ages of 40 and 59. She suggested that women in those age ranges were at a higher risk of developing breast cancer and "would need to pay attention to their health needs in order to detect any changes in the shape, size or appearance of their breasts."
October is breast cancer awareness month and the donation was made to coincide with the observances.
Radiation Oncologist of the Cancer Institute Dr Narendra Bhalla said that the foundation was grateful for the contribution since the test was costly and he "wanted it free for everyone."
He said that the institute is posed with the challenge of finding extra funds to purchase machines but he noted that it cost millions and therefore made it impossible to provide free testing. He also indicated that women would visit the centre when the cancer was already widespread in their bodies, while there are also cases where women would be diagnosed with the cancer but did not have sufficient finances for treatment.
Bhalla said that breast cancer could be treated successfully and "therefore we need to educate women. The earlier the mammogram is done the faster we can get rid of the cancer."
According to the World Health Organisation, breast cancer is the most prevalent cancer among women in the world and claims the lives of thousands of women each year.
The local Avon affiliate has been conducting breast cancer awareness programmes since 2006. The company has been teaching women how to perform the self-breast examination as a first step in detecting breast cancer
Around the Web