Two Corentyne brothers were yesterday charged with murdering Hampshire businessman Devindra 'Dave' Deodat, who was shot dead during an armed robbery at his home last week, while a third suspect remained on the run.
Ramnarine Jagmohan, 27, a farmer, of Belvedere Squatting Area, and Neshan Jagmohan, 23, a cane harvester of Hampshire Squatting Area, were arraigned before Magistrate Sherdel Isaacs-Marcus at the New Amsterdam Magistrate's Court.
The brothers were not required to plead to the capital charge.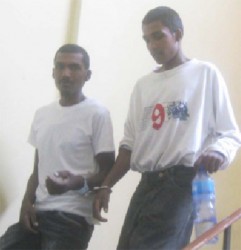 According to the charge, read by Magistrate Isaacs-Marcus, on October 7, 2013, in the company of another, Jagmohans murdered Deodat.
Stabroek News understands that the brothers were suspects in the armed robbery and murder and were charged after they were picked out in an identification parade that was held.
Meanwhile, the third suspect remains on the run. Police are currently searching for him.
The matter was transferred to the Albion Magistrate's Court for November 5.
Deodat, 34, of Lot 72 Hampshire Squatting Area, Corentyne, Berbice was shot to his chest and neck and chopped to his hands and one of his fingers was severed in the attack at his home. His father-in-law, Rafeek Abdul, called 'King,' 57, of Lot 63 Williamsburg, Corentyne, was shot twice to his shoulder when he rushed to the residence after learning that bandits were there.
Shaneeza Deodat, 29, wife of the deceased also sustained a chop to her head, during the attack. She said her husband was dealt a chop and was shot after they wrestled the mask off of one of the robbers during a struggle.
Pathologist Dr Vivekanand Brijmohan, who performed the autopsy, stated that the man died from shock and haemorrhage due to gunshot wounds. The robbers stole about $600,000, a laptop and a gold band.
Around the Web