A 48-year-old Sophia farmer was chopped to death over a land dispute yesterday by his stepson, who later turned himself in as the police were leaving the crime scene.
Dead is Golton McAlmont also known as Lance McAlmont of Lot 266 'A' Field, Sophia, Georgetown. He sustained a fatal chop to his neck during an argument with his 20-year-old stepson over the land their house is on.
As he was being led away by officers, the suspect, Emmanuel Green, said he had to do what needed to be done to put an end to his mother's misery. "Everything is everything, if it happen so that I got to go, I will go," he said. "You can't run forever. I do wah I feel is best by law, cause if he de damage me is I de going out in the hearse."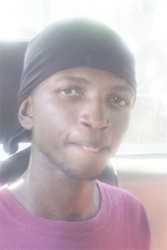 Sharon Nunes, who was in a relationship with McAlmont for the past 11 years, said she suffered years of torment and abuse at his hands. "He was very abusive towards me," she said, adding that he would "call me a set of derogatory names."
Because of the torment, she said, "I say I gon go down at the back. Is me and he name is on this land. I say I gon go at the back for peace sake, and he could bring whoever he want to bring…. He say no that can't happen and he start cussing and going on."
Nunes said that the man, who had been drinking then went outside to get a pitchfork and went to the back of the house where her son was. "I deh watching TV and I pull open the window and I say Lance oh God, you with a problem with Emmanuel again…," the woman said.
"Next thing you know he take the shovel from me son and throw it away. Me son pick up the shovel and start walk away. After my son go inside the house… he start push the door down with the pitchfork," the woman explained.
The woman said that at this point, there was not much that she could have done so she decided to step away. "I tried pulling Lance away, but I couldn't control it anymore, so I step away. And next thing I know like Emmanuel chop he or something. He run and come straight outside and fall down."
Nunes said that as the man lay dying on the bridge, neighbours around refused to render assistance. "Nobody ain't want come and help, these is the neighbours I get, nobody ain't help, they could have come and help me tek he to the hospital," she said.
Meanwhile, a friend of deceased man told Stabroek News that the problems between the two stemmed from a dispute over the land that the house is on. "The land that they deh on is he own," the friend said. "He tek them when they were small and they just tormenting the man. Today he go and see that they  building on the place and he tell them that they can't build at the back because that is his place.
"He say that they too disrespectful and he pelt the shovel away and one of them bore he and he shout and tell Sharon that one of them boys bore he and when he fall down the other one kick he in he face and the mother give he $1000 and tell he pick up he things and go. This man ain't do she anything, the man just come to tell she don't build on he land. He build one side for she and she children and they fretting, and the other side he does live."
According to the man, McAlmont was chopped several months ago by one of the woman's sons. "They de chop he up already, this is not the first time. They chop he to he hand and he belly. They murder the man," the friend related.
Green and Nunes are currently assisting police with investigations.
Around the Web