The United Minibus Union and the University of Guyana (UG) yesterday made a verbal agreement for bus operators who transport staff and students to and from the Turkeyen Campus to be uniformed but not all operators are on board
The agreement is part of the union's effort to regularise public transportation countrywide. "Service providers ought to have a standard… we chose to start it with the university," Eon Andrews, head of the United Minibus Union, told the UG Registrar Vincent Alexander yesterday.
Andrews said that uniformed operators would contribute to the reduction of touting and 'hot-plating'—the act of soliciting passengers on a no stopping zone], thereby increasing order at bus parks—while noting that they are "setting the standard" for public transportation.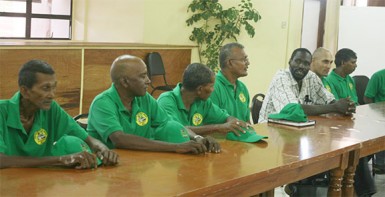 Andrews also petitioned Alexander for operators to use the campus washrooms, which they are sometimes barred from using. Alexander refused to pronounce on the issue but promised to look into it, while adding that the university is willing to cooperate with the UG bus operators toward the enhancement of the campus and service they provide.
Alexander commended the union's initiative to uniform UG bus operators, while saying that the uniforms would help the campus security to deter other East Coast buses from entering the compound.
He asked the handful of operators present at the meeting to help maintain campus facilities in return for picking up students within the campus premises. He also appealed to them to stretch their working hours to facilitate the students visiting and leaving the campus in the evenings, explaining that the distance students would have to walk to reach the public road is "extremely" dangerous and that many of them are at risk of being robbed late in the nights.
Some bus operators, however, did not approve of the agreement, stating that they believe it was part of a ploy to lure them into joining the union. One operator, Hanif (only name given) told this newspaper that "it couldn't pay him to work so late for so little passengers."
"It just wouldn't work out," he added, while stating that regularising the UG operators with uniforms wouldn't deter other East Coast buses from barging into the campus and "stealing we passengers." He firmly declared that he would not join the union.
"It ain't make sense," said another operator, who said that he was working the park for 19 years. He also refused to join. He said that if they allowed the union to regularise their park, they would be without work during semester breaks since they would be only allowed to work the UG bus park. These men and other operators had joined the meeting to hear the terms of the agreement. Only a few of them were seen wearing the official uniform selected by the union.
During their talk the union presented a gift to the university as part of sealing the agreement.
Around the Web