Two armed bandits yesterday morning battered and robbed a businesswoman of Chester, West Coast Berbice and her son before turning their guns on a group of residents who chased after them.
Aleema Alli, 53, and her son Asif, 28, were tied up and robbed of an undisclosed amount of cash and four cellular phones. A family friend who was in her shop was also tied up and stripped of his cash.
The bandits made good their escape in the backlands with residents in hot pursuit. But the bandits fired shots at them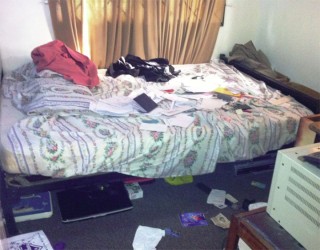 and the residents retreated. No one was injured
The bandits also fired shots at farmers, causing them to abandon their work in the fields. The police, armed with high-powered weapons, later went to the area and scoured it area but came up empty-handed.
Asif told Stabroek News that he was in the yard doing some chores when he saw the men crouched under the front stairs. He approached them to investigate their purpose for being there and then realized they were carrying guns. He screamed and tried to escape but they grabbed him and braced him into the wall. The bandits, who were reportedly carrying a 9 mm pistol and a revolver, threatened to shoot him and his mother.
They told him "don't say a word, we come fuh de money." By then, his mother, who had heard him scream, ran out and they held onto to her as well.
The bandits gun-butted Asif's head and kicked him in his back. They then tied his hands behind his back and pulled his t-shirt over his face, gagged him and placed him to lie face down.
They also tied his mother's feet, but left enough slack for her to walk slowly to take them to where the money was. When she did not give them the amount they expected, they pointed the gun to her head and threatened to kill her.
In the meantime, one of the bandits went upstairs and ransacked Asif's bedroom. Asif said he managed to untie himself and run out of the house but the other bandit followed him and aimed the gun at him. The terrified man said the robber pulled the trigger three times but it failed to work. Asif then continued to run and call out for help.
As the other bandit also turned his attention towards capturing Asif, his mother took the opportunity to run out through the shop door and scream for help. At this stage the men escaped.
Around the Web