Inconsistencies between the accounts being given by eyewitnesses and the police about the death of alleged bandit Delon Hawker, fatally shot by lawmen at Mahaicony last Friday, has led his mother to conclude that there is more to his death that is being covered up.
Rhonda Hawker, a policewoman attached to the Albion Police Station, told Stabroek News from her home at Alness Village, Corentyne yesterday that her son's death might have been a case of mistaken identity but no one is saying so. She believes that everyone is trying to cover up the mistake that has been made.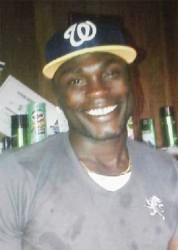 Hawker's alleged accomplice, who was caught by police, was released, according to the woman, who said that the police told her that the accomplice is innocent and they had no reason to hold him.
The grieving mother travelled to the city to view the post-mortem examination on her son's body at the Georgetown Public Hospital morgue. She said his body bore a single gunshot injury just below the heart, which is inconsistent with accounts that her son was firing and running from the police. She questioned why he did not sustain a wound to his back and other parts of his body.
Amidst tears and in a hoarse voice, Hawker said the doctor told her the gunshot damaged her son's liver and lungs.
Police said in a press release yesterday that government pathologist Dr Nehaul Singh gave the cause of death as "perforation of the heart and lungs due to gunshot injuries".
Hawker, 28, and another person had allegedly broken into a house belonging to Veerapen Jebode and his wife, Gangawatti, at Good Faith, Mahaicony and escaped with over $1 million in jewellery and a small amount of cash, a cellular phone and other articles.
Gangawatti and a neighbour boarded a minibus with the bandits and they were at the next village-Dundee Mahaicony-when they saw the police vehicle approaching and shouted for the driver to stop.
Residents said when the vehicle stopped, the bandits jumped out and started to run and the police opened fire on them and one collapsed and died while the other escaped.
Police had said that in addition to the recovery of a snub-nose revolver and a pistol at the scene, a bag containing a pair of binoculars, a cell phone and a cap were also found. Gangawatti is said to have also recognised some of her personal items in the bandits' bag.
Rhonda Hawker told Stabroek News that when she spoke to the police, they told her that her son and his accomplice ran into the backlands and police gave chase. She said that the police told her that it was at this time that the duo opened fire and her son was killed. She noted that the police are claiming that the shooting occurred in the backlands but her son's blood was evident on the public road. This, she said, is one of the inconsistencies in the police's account.
She said that the other inconsistency lies in the wound her son sustained. According to the woman, not only was her son not shot to the back or did he have any wounds to the back of his body but none of the ranks who were pursuing him were injured. The woman viewed this as strange.
She noted that based on the injury he sustained, her son was facing the police and not running away as is being claimed. The woman said that based on what she was told, the police asked everyone on the bus to disembark and as her son did so a police rank walked up and shot him at close range.
She noted that her son had very few friends and knew no one in Mahaicony and he had no reason to be there. However, she stressed that there is "more to the story" but she held out little hope of getting justice.
Asked if her son had any grievances with anyone, Rhonda Hawker recalled that about three weeks ago he had an exchange of words with a police rank who told him to tell his wife that his days were numbered. She said, however, that her son took the threat lightly and he did not make a report to the police.
"I wouldn't get no justice. Police done saying that he went to rob. They already stating that he run into the backlands and he opened fire… yet nowhere on his back get even a scratch," she said.
She said that she had no confidence in the force and would be making no efforts to pursue the matter with them. "I will not be wasting my breath, passage and time only to hear no commander is there [to listen to her] and how he went to thief," Rhonda said.
The woman also questioned the location of her son's belongings, which he had left home with. According to her, he had two gold chains and his boots, all of which are missing. "So who is the real thief?" she asked.
Hawker's relatives, shortly after identifying his body at the Lyken's Funeral Home on Sunday, had told Stabroek News that he was on his way to Georgetown to get an identification card. His reputed wife Stacy said that he had left home around 8 am on the day that he was killed. The shooting occurred around 1 pm.
Police are still conducting investigations into the shooting.
Around the Web