As the man who killed her son two weeks ago remains on the run, even as a wanted bulletin was issued by police for his capture, Karen Hamilton said that her family is getting no justice.
"Yes they have issued a wanted bulletin for the guy that killed my son, but nobody ain't looking for him. People seeing him all over but the police aren't doing anything about it," the woman told Stabroek News yesterday.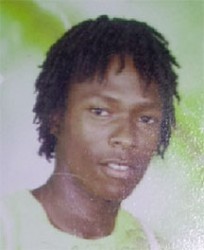 Michael Hamilton was gunned down by a man as he was making his way to his aunt's home on October 7. A wanted bulletin was issued by police last week for the capture of Junior Anthony Henry called 'Oswald' in relation to the murder.
The woman also said that her family continues to receive death threats from the gang members, who are hiding out in the area. "The guy that shot him the first time in his buttocks, 'Trini', only the other day he was waiting on my brother with a gun in his hand."
Hamilton maintained that her son was never in a gang. "My son was never in a gang, he represented where he came from and those boys targeted him from there. The police get it one way that he was in a gang, that mek their work more easier."
According to Hamilton, she made umpteen reports to the police, but the officers who received the reports never reported to the commander at the station. "The police lie. I would call his name and all. My son refused to go with them in the Backdam when they came with the bullet proof vest and the very next night, the guy came and shoot up by my mother house. When I called them to come they search her house for guns. They found nothing," the woman said.
"They searched twice and they never reported it back to the station. I went to the old commander at the station and he said that no report was ever made there…When I buse the police is the night when they search my mother house. I tell them that my son de seh that he don't trust them. The other night I buse him was when Michael died. I tell them that I don't have time with them because they weren't doing a proper job .The woman was responding to an allegation that a lawman close to the investigation had said that she never cooperated with them when they responded to reports made.
Around the Web