On November 6, 2013, a full scale preparedness exercise will be held to test the emergency responses of the Cheddi Jagan International Airport, Timehri.
The Ministry of Public Works yesterday announced that the test will provide hands-on experience for airport and airline staff, hospitals, fire service, security and other emergency personnel.
It said that during the simulated exercise, personnel will respond as in a real scenario, including the use of sirens, firefighting equipment and other emergency vehicles.
An Airport Emergency Committee, the ministry said, began preparing for the exercise more than six months ago.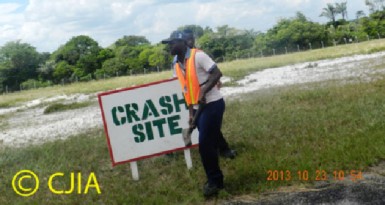 "The simulation is a great opportunity to test the airport's readiness to respond to any emergency. We always have to ensure that key airport stakeholders and first responders are aware of their roles in the event of an emergency where timing and coordination are key elements to saving lives and saving expensive assets. The full scale emergency exercise takes place every two years and is a requirement of the International Civil Aviation Organisation (ICAO)," Ramesh Ghir, the airport's Chief Executive Officer, was quoted as saying by the ministry.
The ministry said that a script outlines which areas will be tested during the exercise. "The element of surprise is key. The first responders will respond to the scene of the accident and these personnel will be tested on how they will react in a real emergency when making decisions," said Andre Kellman, the airport's Deputy Operations Manager, who is coordinating the response for emergency personnel during the exercise.
A sign test was conducted on Wednesday at the proposed crash site. According to Kellman, clear signage is important because it lessens the chaos and traffic congestion during a "real life incident."
The roles that each agency will play in the exercise were also hammered out at a meeting on Wednesday, the ministry noted.
The Guyana Defence Force, Customs and Immigration, Ministry of Health, Caribbean Airlines, Guyana Civil Aviation Authority, Civil Defence Commission and the Guyana Police Force are among the stakeholders in the exercise.
Around the Web