The Child Care and Protection Agency has launched an investigation into the death of two-year-old Kimanie Watson, who is believed to have been the victim of sexual molestation, Director Ann Greene said yesterday.
In a telephone interview with Stabroek News, Greene said that following her death on Monday, the agency is also looking out for the interest of Kimanie's younger sister. She said the agency has sent out social workers into the area to overlook the case and added that they are watching the police investigation closely.
"All I can say right now is that it is very sad what happen[ed] to that child," Greene stated.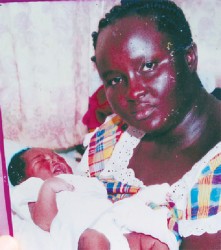 A post-mortem examination of the child's body on Friday revealed that she bled to death due to abdominal injuries. Kimanie's uncle, Michael Luke, who was present at the examination, said the doctor told him that Kimanie's anus was enlarged. He said it was then the doctor told him that Kimanie was a victim of sexual abuse. "The doctor told me that there were signs of forced entry into her behind and that she was badly damaged," he said. "The person who did this should never see the daylight again. This is totally unacceptable."
A police source at the Cove and John Police Station said that they have received the post-mortem examination report and are continuing with their investigation. However, the suspect in the abuse of the girl, a male relative, was released on $25,000 bail on Friday.
Some relatives at the toddler's home in Haslington, East Coast Demerara were enraged yesterday that the suspect was freed because they were fearful that he would flee the country. "I want justice for my child! I'm not ashamed and I will speak my mind," Kimanie's mother, Venice Phillips, said. "I will get justice for what happen to my child," she added, stating that she became upset when she had heard that the accused was released.
Phillips strongly denied claims that her daughter was sick when she arrived in Guyana. "I came here in August and my daughter was healthy… nothing didn't happen to her. This is scandalous that people would say that she had bird flu and all sort of things. My daughter was healthy."
She related that when she returned to Guyana in August, her mother had encouraged her to find a job. "She tell me that she would look the children after and I said, 'okay,'" she recounted, while adding that she started living with her mother and her two brothers in the home. "It was me and my children and her two sons and her. I got the job and I would come home late but is now story coming out that my daughter use to get beat by she [her mother]."
Phillips said she was distraught on the day of the autopsy. "I was too emotional to go and actually see that my baby would get cut in half so I couldn't do it. My daughter died with she eyes and mouth open," she said, starting to cry. "They tell me that she died of heart attack," she said, adding that she believed her daughter was a victim of constant sexual molestation. "My child didn't come here with no sickness," she emphasized repeatedly.
She said she heard that her child was "brutalised" by relatives when she was away at work. "The only thing I need right now is for the culprit to go behind bars because I didn't bring any sick child… I just need justice for my child… I'm crying out like a mother. I need justice for my child. I need justice for my baby. That's all I need."
According to other relatives, the toddler had collapsed with a sudden bout of diarrhoea and was rushed to the Georgetown Public Hospital, where she died. They said that the child would usually be left in the care of her grandmother but the day of the child's demise she was left in the care of a male relative. They added that the male relative had rushed over to the front house, where they were staying and said that the child was sick.
"It's a sad thing that happen to the child… only them that living in that yard can say what happen," a neighbour told this newspaper, while adding that he was sitting outside in his yard when he heard a commotion in the Watson's yard. He recalled hearing the teen hollering for someone, saying "Come see… come see what happen to this child!"
He said later that afternoon police came and carried away the mother, the teen and the grandmother to the station. He added that the next morning the mother and the grandmother returned home without the boy.
Around the Web