The Georgetown Public Hospital Corporation (GPHC) in collaboration with the Japan International Corpora-tion Agency (JICA) recently certified 19 nurses who underwent training in the Paediatric Emergency Skills Prog-ramme 2013, according to the Government Information Agency.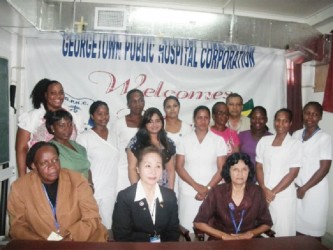 GINA said that the nurses were trained in areas such as Team Dynamics, Airway Management, Infant and Child Resuscitation and Cardiac Rhythm Recognition.
This is the second time that JICA representatives have carried out training at GPHC.
Medical equipment was also donated to the hospital by JICA to carry out the paediatric training.
JICA's Representative Sumiko Yoshida highlighted that the nurses who attended the training were fully involved and recorded 100% attendance.
Around the Web