Three schools and an agrochemical supplier were awarded by the Pesticides and Toxic Chemicals Control Board (PTCCB) of the Ministry of Agriculture during its 2013 pesticide awareness award ceremony on Tuesday even as the call was sounded for better storage of the chemicals.
The event was held at the Impeccable Banquet Hall on Brickdam, as part of the ministry's observances for Pesticide Awareness Week, held under the theme of "Pesticides – Store Wise, Saves Lives."
A release from the Government Information Agency (GINA) said that three awards recognised the top three of seven secondary schools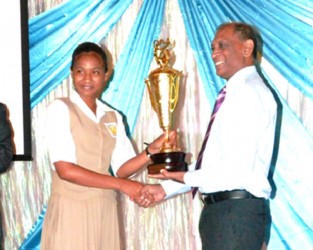 that participated in the PTCCB competition to create the 'best' pesticide awareness corner within their schools. Corentyne Comprehensive High School got the first place while Zeeburg Secondary School took second place and Charity Secondary School placed third. The fourth award recognised the agro-chemical supplier in Guyana with the best storage facilities for pesticides. This award was presented to T Geddes Grant (Guyana) Limited.
In addition to collecting the awards, these schools also received a quantity of farming equipment. Corentyne Comprehensive was handed farming equipment worth $100,000, Zeeburg received $80,000 and Charity collected $60,000 worth. GINA said that the board worked with the schools, providing the material/information for the construction of the pesticide awareness corners emphasising safety practices. The schools were judged according to their adherence to rules stipulating the size for the corner, (8×8) and their use of the space, their creativity, use of language, flow charts and the use of materials provided by the board among other things.
Others schools that took part in the competition were Fort Wellington Secondary School, Wakapoa Secondary, Patentia Secondary and Central Corentyne Secondary. These schools each received consolation prizes of an agriculture text book, costing $20,000.
Minister of Agriculture, Dr Leslie Ramsammy complimented all the schools involved in the competition saying, "You are all winners. There is really no loser, when we have awareness, we all win, and we are trying our best that Guyana is not only aware of the goodness and the dangers that come with pesticides."
The minister stated that "Guyana has evolved from a time when we used pesticides indiscriminately to now where we are making people aware."  He noted that in Guyana there was much more awareness of the dangers of pesticides.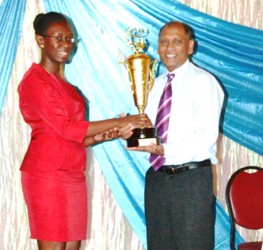 GINA said that Ramsammy conceded that there was still room for improvement, especially in the area of storage. He was satisfied that pesticide importers were making every effort to improve their own storage, but noted that storage by users and at the local level was not acceptable. "Some of those facilities that sell to the communities leave much to be desired. We have established rules for storage, and these rules have not always been followed," the minister said. He said that when the PTCC Board attempts to implement the law, they are simply trying to make sure pesticides remain effective and at the same time, make sure that persons are not exposed to the dangers of the chemicals as played out daily.
GINA said that the minister noted that persons who were exposed unnecessarily to pesticides experienced respiratory illnesses, and reproductive problems. He also warned about suicide by ingesting the chemicals. Ramsammy said that in Guyana on average 150 to 200 young people commit suicide every year through consuming poison.
The Agriculture minister said that all stakeholders, including children must play their part to create awareness to ensure that just the beneficial uses of pesticides are achieved, not the perils. "We must combat those perils with knowledge, with awareness and a willingness to do what is right," he said.
PTCCB's Registrar, Trecia David said that the board was working with children in schools because it was easier to effect changes through them.
"In Guyana one of the hardest things to do is to get the persons who have been using things like pesticides for 20 or 30 years to change their mindset, and so many places where you go, farmers and other pesticide users purchase these products, but they store them anyhow… so it's an alarming issue that we are dealing with. That is why we are going to secondary schools, we want the students, we want the young people to be able to go home and assist in changing of the mindset of those persons. We want them to play a role in actually changing common practices they have been using in Guyana when it comes to chemical use," David said.
Around the Web