Even as her mother's alleged killer remains on the run the daughter of Maharanie Parmanand is calling on the police hierarchy to intensify training for officers dealing with domestic violence cases.
"This is not only about my mother, it could someone's mother, sister, aunt, anybody the police need to know how to talk to the women and to be more proactive and do the job getting the men charged and put away because look at the pattern of women who die, is not a first time thing," Parmanand's eldest daughter Kumarie Persaud said.
"I did most of the running around with my mother when she was last injured and I can tell you I was almost brought to tears when a policeman … at Vigilance told me that is man me mother de want make she get beat up…," Persaud recalled.
Parmanand was discovered dead by neighbours in her home at Lusignan, East Coast Demerara on October 20,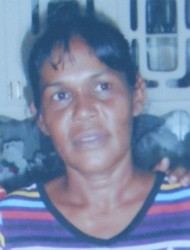 hours after she was allegedly beaten by her common-law husband Reaz Fazil, who has since gone into hiding and has not yet been found.
Police have said that they are in the process of issuing a wanted bulletin for the man. Parmanand's family was recently approached by police from the Vigilance Police Station for a photograph of the man but they said that he was not a person to take out pictures. They said they believed when police had charged him last year for assault, they should have taken a mugshot.
Parmanand's family, friends and neighbours had recalled the years of abuse she had suffered at the hands of Fazil, who was convicted for a vicious assault on her and fined in his absence.
However, he did not pay the $70,000 fine and continued to walk the streets a free man although he was liable to serve an eight-month jail sentence for failing to pay the fine. Police are yet to comment on that case.
The 21-year-old, who is based in Trinidad, requested an audience with this newspaper because she said the police need to be exposed so they can be held accountable for their actions. She also wants her mother's case to be used as an example of what officers should and should not do when dealing with domestic violence cases.
Persaud said that daily she lives with not only the memory of nursing her battered mother to physical health but also the horrid recollection of how she was treated by some police officers at the Vigilance Police Station.
"I know how it feels and I remember clear as day how things went down and feel people should know what happens …and why some women, I believe, just take their blows and prefer not to go to the stations," she added, recalling the police officer who made the disparaging remark about her mother.
Persaud said she felt embarrassed and did not bother to respond to the police's snide remarks.
Recounting her experience with police when her mother was pulled her from her house in an unconscious state with multiple broken bones and lacerations about her body Persaud stated she did not believe enough was done. "We called the police they said no patrol vehicle take her to the hospital …she was there they didn't take a statement at the hospital it was after I running here there all over to take her medical," she stated.
She said that even after multiple surgeries and her mother was being taken home to continue medical treatment the police continued their "rough ways".
"I took her at the back of that bus hands break feet break and went into the station saying that my mother here to give a statement and they tell me she has to come in… I wanted to know how a woman who can't walk could come in and they tell me that is the rule you have to come in the compound," she lamented.
She recalled a polite officer only known as 'Adams' who decided to take over her mother's case and he, she said, took the family's mobile numbers and even visited to give updates on the case. When Fazil was sentenced it was the said officer who called to inform them of the judgment.
However, Fazil had gone into hiding and the case slowly died.
She said that it was the same officer she came into contact with after her mother's demise and he remembered her mother's case vividly. "I think if Adams had dealt with the matter earlier he would have done a better job because I remember he would always say we still looking for the man, but like he didn't know the two of them were back together," she posited.
"We need more police who are out to get the job done. I hope that they use this case and learn from it so when another woman calls [regardless of who she is]… they would put that aside and cooperate and work with that woman to get her help," she stressed.
Around the Web