Members of the Guyanese community last evening came out in large numbers to witness the annual Diwali motorcade. Persons were seen along Campbell Avenue traversing into Sandy Babb Street and on Rupert Craig Highway, observing the extravagantly lit motorcade.
This year has seen an improvement in participants, President of the Guyana Hindu Dharmic Sabha Dr Vindhya Persaud said.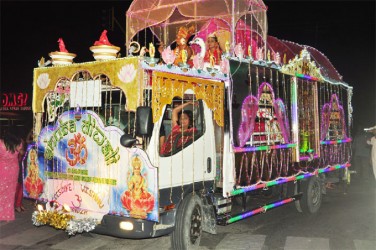 The festival of lights, Diwali, is being celebrated today. The Diwali motorcade, which has graced Guyana's roadways for the past 39 years, was founded by the late Pandit Reepu Daman Persaud.
Dr Persaud, expressed her satisfaction in the legacy left by her father and added that this festival brings people together. She congratulated the participants in this year's motorcade. Floats participated in the large and small categories. In the small category, the Rosignol Mandir was quite an attraction. There were also several other very attractive and colourful floats.
Among the impressive participants in the large category were the Edward B Beharry float designed by Andrew Arts and those by the Progressive Youth Organisation and Success Hindu Temple.
International religious singer, Jeffery Iqbal was also present and was scheduled to perform at the grand judging ceremony at La Bonne Intention (LBI) community centre ground last night.
Around the Web