Marriott International has inspected a number of completed sample rooms at the Kingston, Georgetown edifice under construction, CEO of Atlantic Hotels Inc Winston Brassington has said.
He added that the project is continuing apace and on schedule for an August 2014 commencement of operation.
There has been no further disclosure on the investor with which government has signed an agreement for a stake in the project. Brassington had promised that this information could be released before the end of the year.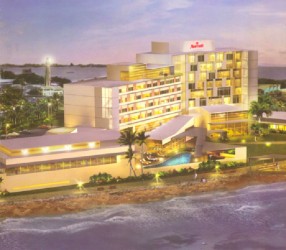 This private partner is committing US$8 million out of the US$12 million equity in the US$58 million hotel project. This private partner will be the majority shareholder.
Brassington had said that the investor wanted to be comfortable that all of the remaining money would be coming in before going public. He explained that the transaction had had a number of conditions precedent, one of which was that the investor had to be approved by Marriott International.
Following a due diligence by Marriott International, the investor was approved. Republic Bank Trinidad and Tobago through an international consultancy firm also carried out its due diligence on the project.
This banking institution is providing a syndicated loan of US$27 million.
Brassington had said that once the conditions precedent had been met, the transaction would be completed and the details made public.
This newspaper has learnt that personnel from Marriott International were in Guyana over the past week to look at the completed sample rooms.
Marriott International was unable to provide an immediate response to this newspaper's queries about the recent visit by its officials to look at the sample rooms. The person Stabroek News made contact with yesterday, Senior Account Executive – ICG Americas Jennefer V. Melendez said that she would be checking and reporting to the newspaper this week.
However, Brassington said that the feedback from the Marriott officials after inspecting the sample rooms was positive.
In July, another Marriott official told this newspaper that Guyana's hotel project was announced in June 2011 as part of a larger announcement by the Marriott Hotel and Resorts brands. Laura Botelho, Marriott International's Public Relations Director, Caribbean & Latin America said that Marriott International does however provide guidelines and advisory services to the hotel owners for design and construction so that the hotels are built according to its world-class brand standards.
She said Marriott International is a hotel-management company with a business model that overwhelmingly focuses on managing and franchising hotels, rather than owning or constructing them. "The company works with local owners that understand the local laws, real estate and construction in their respective countries and territories," she said.
She noted that once the hotel in Guyana is built, Marriott International plans to hire over 200 local Guyanese employees and train them to work in their hotel. "This is the standard when Marriott International operates hotels internationally," she said.
Around the Web